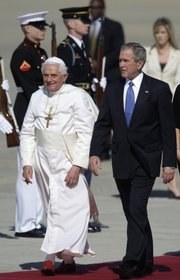 Pope Benedict XVI on Tuesday arrived on his first trip to the United States. His public appearances in Washington, D.C., and New York City will be attended by thousands of people, while millions more will examine his speeches to get a better understanding of the man who has led the Roman Catholic Church for three years.
The pope's itinerary:
¢ This morning Benedict will be welcomed by a crowd of 9,000 to the White House, where he will meet with President Bush. Tonight, the White House will serve a Bavarian dinner in honor of the pontiff's 81st birthday, but Benedict will not be there - he will be at a prayer service meeting with U.S. bishops at the Basilica of the National Shrine of the Immaculate Conception.
¢ On Thursday, the pope will say Mass at Nationals Park baseball stadium; address presidents of more that 200 Catholic colleges; and meet with Buddhists, Muslims, Hindus, Jews and others at the Pope John Paul II Cultural Center.
¢ On Friday, the pope travels to New York, where he will address the United Nations, visit a synagogue and participate in a prayer service with leaders of other Christian groups.
¢ Saturday, Benedict will say a Mass and meet with priests, deacons and clergy at St. Patrick's Cathedral, then travel to Yonkers for an event with Catholic youths.
¢ The pope's visit concludes Sunday, with a visit to Ground Zero and a Mass at Yankee Stadium.
Copyright 2018 The Lawrence Journal-World. All rights reserved. This material may not be published, broadcast, rewritten or redistributed. We strive to uphold our values for every story published.