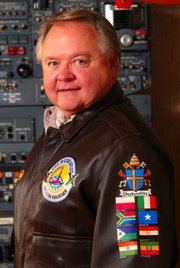 As Pope Benedict XVI commences his first official visit in the U.S., Lawrence resident Nelson Krueger recalls his own close-up view of a similar trip from the late Pope John Paul II.
"It was the most incredible experience of my life," Krueger said. "The whole trip was an odyssey that was surrounded by an abundance of good news."
Krueger, a longtime pilot for TWA, in 1979 co-piloted Shepherd One as it escorted Pope John Paul II in his first official visit to the United States.
The trip included stops in Boston, New York, Philadelphia, Des Moines and Chicago. Krueger, whose passengers have included Sen. Bob Dole, thousands of U.S. troops and members of Saudi Arabian royal family, said his experience flying the pontiff still brings him shivers.
At stops in various cities, Pope John Paul II was met with masses of people straining for a glimpse, Krueger recalled. And up close, Krueger found the religious leader both robust and personable.
"When he'd look at you, a million bits of information changed between you and him in one second," Krueger said. "You could tell he was a real genuine fella."
It wasn't like other flights. Shepherd One, a Boeing 727, was reconfigured for its special passengers.
"You had the one big chair for the Pope, and then you had a couple of chairs that were almost as big for the cardinals," he said. There were "a couple of bishops and archbishops, and they had to have their own chairs of a given size to fit the protocol of their office."
A table covered in white lambskin was set up for Pope John Paul II to read the Bible and take notes.
Reporters and others filled the back of Shepherd One as well as Shepherd Two and Shepherd Three, both Boeing 727s.
Maynard Oliverius, a pilot and longtime friend who is chief executive at Stormont-Vail HealthCare, said it wasn't chance that put Krueger on Shepherd One.
"That was not something that just any crew would get to do," Oliverius said. "They were handpicked to represent TWA and to fly the Pope when he was in the United States. ... You've got a real star right there in Lawrence."
Krueger said during the pontiff's stops in various locations, the reaction from the public could be overwhelming.
"He carries an aura of good news," Krueger said. "Everybody feels so positive and good. The cheers - you can feel them bounce off of your skin, not just bounce off of your ears because they were so loud."
Krueger, a Methodist, still has mementos from the trip - a family rosary blessed by the Pope and a crystal obelisk the pontiff gave to him.
He said he believes Pope Benedict's visit will be similarly memorable for those close to it.
"They won't know for 20 years how special it is or was," he said. "It'll be an emotion-packed, life-changing experience for certainly the flight crews and anyone who's involved in that trip in any way."
Copyright 2018 The Lawrence Journal-World. All rights reserved. This material may not be published, broadcast, rewritten or redistributed. We strive to uphold our values for every story published.