2008 NCAA Tournament
Press Conferences & Post-Game Interviews
Bill Self's April 1 pre-Final Four press conference
KU coach Bill Self met with the media in Hadl Auditorium Tuesday to discuss the upcoming Final Four, in which his team is part of history, with all four one-seeds having advanced to San Antonio. Self talked in-depth about gameplanning for North Carolina, plus again denied rumors that he will leave Kansas the end of the year to take over at his alma mater for Sean Sutton, who resigned earlier in the day as the Oklahoma State men's basketball coach.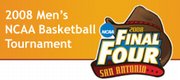 Get your March Madness fix at KUSports.com.
Asked Tuesday about the newly created basketball coaching vacancy at his alma mater, Kansas University coach Bill Self did not say: "I don't give a (bleep) about ..." On the contrary, Self said he cares "deeply" about Oklahoma State. He also made it clear he's not interested in coaching there.
"Spent 11 years of my life at OSU," Self said at a news conference conducted to discuss KU's upcoming Final Four appearance. "But nobody from there has contacted me, and if they did, I would strongly recommend they move in another direction."
On his way out of Hadl Auditorium, Self spelled it out even more clearly, saying, "I'm not a candidate."
Outgoing OSU coach Sean Sutton, whose Cowboys upset KU, 61-60, on Feb. 23, resigned under pressure Tuesday. The timing could not have been worse for the school's Big 12 brother Kansas.
School officials did their best to minimize the potential distraction.
Both Self and KU Athletic Director Lew Perkins, who share a close relationship, indicated they will meet after the season to redo the coach's contract, which already was sweetened a year ago.
"Nobody has called me from Oklahoma State, which I would assume they would have done that," Perkins said. "We're going to do everything we possibly can to have Bill be our basketball coach here for a long, long time. I see no reason why that won't happen."
Copyright 2018 The Lawrence Journal-World. All rights reserved. This material may not be published, broadcast, rewritten or redistributed. We strive to uphold our values for every story published.