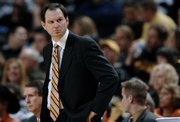 2008 NCAA Tournament
Press Conferences & Post-Game Interviews
Bill Self's April 1 pre-Final Four press conference
KU coach Bill Self met with the media in Hadl Auditorium Tuesday to discuss the upcoming Final Four, in which his team is part of history, with all four one-seeds having advanced to San Antonio. Self talked in-depth about gameplanning for North Carolina, plus again denied rumors that he will leave Kansas the end of the year to take over at his alma mater for Sean Sutton, who resigned earlier in the day as the Oklahoma State men's basketball coach.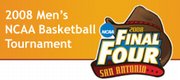 Get your March Madness fix at KUSports.com.
Happy at Kansas University, Bill Self has no interest in the opening at Oklahoma State.
"I'm not a candidate," Self, KU's fifth-year basketball coach, said emphatically Tuesday upon exiting a news conference called to discuss the Jayhawks' upcoming trip to San Antonio for the Final Four.
At the 30-minute news conference, Self fielded a few questions about Sean Sutton's dismissal after two seasons at Self's alma mater, OSU.
"I feel bad for Sean," Self said. "I think his team got better through the course of the year, no question."
Regarding seasonlong rumors OSU booster T. Boone Pickens and athletic director Mike Holder might try to steal Self away from KU, Self said: "I do care deeply about my alma mater. I spent 11 years of my life at Oklahoma State. Nobody from there has contacted me. If they did, I'd strongly recommend they move in a different direction."
Self, who said he has a great relationship with KU athletic director Lew Perkins - "We talk about anything and everything," Self said - headed to Perkins' office to inform him of the Sutton dismissal late Tuesday morning. Self had received a call from an OSU "fan" indicating Sutton likely was on the way out.
Perkins and Self said they'd not heard from Oklahoma State officials. Self said he doesn't want such a phone call.
"I don't want to be presumptuous. It could happen," Self said about being contacted about the opening. "I'd be telling them right now they shouldn't (call him), based on my situation here and how much I like being at the University of Kansas."
Perkins said he and Self will meet after the season as they do every season. Self, who makes $1.375 million a year and this postseason so far has netted incentive bonuses of $175,000, can expect to net a raise in pay.
"Bill and I have been talking about a lot of things including his future. We've been doing that for quite a while," Perkins said. "It's premature to talk about it publicly. We'll definitely talk about adding resources for him."
Asked about Self's statement that he's "not a candidate" at OSU, Perkins said: "I'm very happy about that. We want him to be here."
KU is committed to basketball perhaps more than ever, with more improvements to Allen Fieldhouse on tap, as well as a new basketball practice facility.
"We talk about a lot of scenarios. The bottom line is we have a good relationship," Self said of him and Perkins. "We've said all along when the season is over we'll evaluate what's going on. I don't anticipate just because this happens at this time that we change our game plan. Our game plan is that when the season is over, Lew and I get together and make sure this is a great fit for everybody. I certainly anticipate that being the case."
As far as this possibly being a distraction to his players at the Final Four, Self said: "I'm sure it will draw attention. It won't be a distraction with me in the least and won't be with our players. I will visit with our players this afternoon that you guys (media) will ask questions about this."
The Jayhawks realize Self has no desire to coach at OSU and say it is not a distraction.
"We're not worried about that," junior Brandon Rush said. "We know coach loves coaching us, and he's not going anywhere."
"I don't think there are any distractions. We're not even worrying about it," senior Darnell Jackson said. "This is Kansas. It's not OSU, so we're not worrying about that at all. Oklahoma City is a great place to go live, and there's a lot of people there. But I don't know about the coaching and the college basketball stuff goes."
¢
Rush makes Wooden team: Texas' D.J. Augustin, Kansas State's Michael Beasley, Davidson's Stephen Curry, North Carolina's Tyler Hansbrough and UCLA's Kevin Love are finalists for the John R. Wooden Award, given to college basketball's top player. Those five, plus KU's Brandon Rush, Memphis' Derrick Rose and Chris Douglas-Roberts, Notre Dame's Luke Harangody and Tennessee's Chris Lofton joined the fab five on the 10-player Wooden All-America team.
¢
Self consults Case: Self believes Jeremy Case will be a great coach someday. Self has helped prepare him, seeking Case's input during a stoppage of play in the Davidson game.
"I asked him the other day against Davidson during a timeout, 'Hey, Jeremy, what do you think?' Of course it (reply) was, 'Uh, uh,''' Self joked. "Actually, he said, 'Coach we're fine.' I do trust to ask Jeremy what's going on. He does have a different insight."
Case admits he was a bit surprised Self turned to him during the timeout.
"He looked at me, 'Jeremy what do you think?' I said, 'We're OK,''' Case said. "He wanted my insight. I thought we were going to be OK."
As far as where Case will coach next year, Case said: "I'll wait until after the season and see what my options are, what happens."
¢
Bus leaves today at 4 p.m.: KU's team will head for San Antonio today. The team will practice, then board a bus at 4 p.m. for Forbes Field in Topeka. KU will leave via charter at 5 p.m. and arrive in Texas after 7 p.m.
¢
Great field: KU's Darrell Arthur on four No. 1 seeds making the Final Four for the first time in history: "It's going to be a very competitive Final Four. It's going to be crazy."
KU enters as the lowest of the top seeds.
"I think we're one of the best teams in the nation," Arthur said. "We've proved that by getting to the Final Four. We're just going to have to go down there and take care of business."
Copyright 2017 The Lawrence Journal-World. All rights reserved. This material may not be published, broadcast, rewritten or redistributed. We strive to uphold our values for every story published.