2008 NCAA Tournament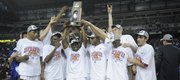 Press Conferences & Post-Game Interviews
Bill Self's April 1 pre-Final Four press conference
KU coach Bill Self met with the media in Hadl Auditorium Tuesday to discuss the upcoming Final Four, in which his team is part of history, with all four one-seeds having advanced to San Antonio. Self talked in-depth about gameplanning for North Carolina, plus again denied rumors that he will leave Kansas the end of the year to take over at his alma mater for Sean Sutton, who resigned earlier in the day as the Oklahoma State men's basketball coach.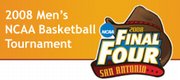 Get your March Madness fix at KUSports.com.
If Kansas were to capture its third national championship this season, it wouldn't be a stretch to say it would be the most prominent victory in the history of the Big 12 Conference.
Since the Big 12's inception in the 1996-97 season, here's a list of national champions, starting in 1997: Arizona (Pac-10), Kentucky (SEC), Connecticut (Big East), Michigan State (Big 10), Duke (ACC), Maryland (ACC), Syracuse (Big East), Connecticut (Big East), North Carolina (ACC), Florida (SEC) and Florida (SEC).
All major BCS conferences are accounted for on that list, with the exception of the Big 12.
The conference certainly has had its chances. Since 1996-97, six Big 12 teams have made the Final Four.
In fact, that's more than any other conference in the nation.
Kansas (2003, New Orleans) is the only Big 12 team to have played in a national title game.
Here are the other five Big 12 teams, to go along with the 2008 Jayhawks, to reach the Final Four:
2004 Oklahoma State Cowboys (2 seed)
Lost to: Georgia Tech, 67-65, semifinals
Key players: Tony Allen (Boston Celtics guard), Joey Graham (Toronto Raptors guard/forward), John Lucas (Houston Rockets guard)
Record since Final Four: 82-52 (.612)
2003 Kansas Jayhawks (2 seed)
Lost to: Syracuse, 81-78, finals
Key players: Nick Collison (Seattle Sonics forward), Kirk Hinrich (Chicago Bulls guard), Keith Langford (NBADL), Aaron Miles (Europe), Jeff Graves, Michael Lee (KU graduate student manager)
Record since Final Four: 140-32 (.814)
2003 Texas Longhorns (1 seed)
Lost to: Syracuse, 95-84, semifinals
Key players: T.J. Ford (Toronto Raptors guard), Royal Ivey (Milwaukee Bucks guard/forward), James Thomas, Brandon Mouton, Brad Buckman
Record since Final Four: 131-43 (.753)
2002 Kansas Jayhawks (1 seed)
Lost to: Maryland, 97-88, semifinals
Key players: Collison, Drew Gooden (Chicago Bulls forward), Hinrich, Miles, Jeff Boschee
Record since Final Four: 170-40 (.810)
2002 Oklahoma Sooners (2 seed)
Lost to: Indiana, 73-64, semifinals
Key players: Hollis Price, Quannas White, Ebi Ere, Aaron McGhee, Jabahri Brown
Record since Final Four: 131-62 (.679)
Copyright 2017 The Lawrence Journal-World. All rights reserved. This material may not be published, broadcast, rewritten or redistributed. We strive to uphold our values for every story published.