2008 NCAA Tournament
Press Conferences & Post-Game Interviews
Bill Self's April 1 pre-Final Four press conference
KU coach Bill Self met with the media in Hadl Auditorium Tuesday to discuss the upcoming Final Four, in which his team is part of history, with all four one-seeds having advanced to San Antonio. Self talked in-depth about gameplanning for North Carolina, plus again denied rumors that he will leave Kansas the end of the year to take over at his alma mater for Sean Sutton, who resigned earlier in the day as the Oklahoma State men's basketball coach.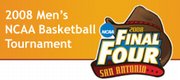 Get your March Madness fix at KUSports.com.
6News coverage
6News will have special live coverage Saturday night following the Kansas-North Carolina game. We will have live reports from downtown Lawrence, highlights and analysis of the game, as well as postgame coverage from San Antonio.
Be sure to watch Sunflower Broadband Channel 6 immediately following Saturday's game.
Tired of the bar scene? Not eager to sit at home alone Saturday night as the Jayhawks shoot it out with the North Carolina Tar Heels?
Kansas University has a deal for you: Watch the Jayhawks with 16,300 other rabid Jayhawk fans at Allen Fieldhouse.
Doors to Allen Fieldhouse will open Saturday night, about 50 minutes before tip-off of the Jayhawks' game against North Carolina. The east and south entrances will be open.
Fans can watch the game - televised from the Alamodome in San Antonio - on the video board.
Should Kansas defeat the Tar Heels, Allen Fieldhouse doors will open Monday at 7:30 p.m. for the 8:15 tip-off. The KU pep band and the mascots will be on hand.
Allen Fieldhouse will close each night immediately following the games.
Admission is free, and parking lots and the parking garage adjacent to Allen Fieldhouse will be available at no charge. The KUstore.com, the Booth Family Hall of Athletics and concession stands on the lower concourses will be open.
¢
It's time to break out those blue shirts, blingy basketball beads and boisterous renditions of the Rock Chalk Chant.
CBS weather anchor Dave Price wants to see and hear from KU faithful, hoping that the flock can help brighten his five forecasting segments this Friday on "The Early Show." CBS honchos want him surrounded by hoops aficionados sporting their team colors.
But there's a bit of a catch: Such frenzied fans need to be where he is for the show's live cut-ins, and that's inside Hoop City - a 779-mile drive from Allen Fieldhouse, to the doorstep of the Final Four.
And because Price will be on from 6 a.m. to 8 a.m. that day, CBS honchos are asking that fans be in place by 5:45 a.m.
"They are, of course, hoping that every school is represented - and, of course, we want to have the largest representation," said Jennifer Sanner, a senior vice president at the KU Alumni Association. "It's asking a lot of Jayhawk fans, but we know they will answer the call.
"For some people, it's never too early for basketball."
¢
The Watkins Community Museum of History has two basketball history exhibits currently on display. "Naismith: Legend and Legacy" and "Phog Allen: The Father of Basketball Coaching" are on the museum's third floor.
The museum, 1047 Mass., is open from 10 a.m. to 6 p.m. Tuesday and Wednesday, 10 a.m. to 9 p.m. Thursday, 10 a.m. to 5 p.m. Friday and 10 a.m. to 4 p.m. Saturday.
Copyright 2018 The Lawrence Journal-World. All rights reserved. This material may not be published, broadcast, rewritten or redistributed. We strive to uphold our values for every story published.