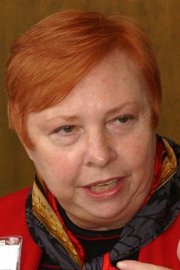 The St. Luke's Board of Directors Friday approved in principle the proposed affiliation between Kansas University Medical Center and St. Luke's hospital in Kansas City, Mo.
St. Luke's spokeswoman Kerry O'Connor said the affiliation is not yet in effect, however, because the final terms - including how much St. Luke's will pay the university - have not yet been reached.
"It means they've given permission to St. Luke's to move forward with finalizing the terms of the agreement," O'Connor said.
Once the terms are agreed to, the agreement would go into effect when both the university and St. Luke's have signed it. O'Connor could not say whether further action would be necessary on the part of the St. Luke's board, in light of Friday's approval.
Under terms of the draft previously disclosed, St. Luke's would get to call itself a "teaching and research hospital of KUMC" or a "major teaching and research hospital of KUMC," if it agrees to provide a certain level of unrestricted mission support. Up to 100 residents would also train at St. Luke's with the hospital picking up that cost, though it would likely take 10 years to reach that level.
Amy Jordan-Wooden, a spokeswoman for KUMC, said this is the outcome the medical center had planned for.
"We expected that they would embrace this agreement," she said. "It follows the guiding principles, but we still have a few details to work out."
Jordan-Wooden said a group from KUMC is meeting regularly with leaders from St. Luke's to complete the final details of the agreement. She said the group is meeting less frequently than the KUMC-KU Hospital group is meeting, but many of the same people are involved.
KU Hospital and KUMC must still negotiate the terms of its new affiliation. KUMC Executive Vice Chancellor Barbara Atkinson and KU Chancellor Robert Hemenway presented a draft affiliation agreement to the KU Hospital Authority board last week. Jordan-Wooden said the St. Luke's board approved the same draft.
Though Hemenway and Atkinson have said their signatures are enough for approval of the document on the KU side, the hospital authority board asked to see a final draft before the affiliation is put into effect.
KU Hospital spokesman Dennis McCulloch said the hospital is still waiting for word from KUMC on what the St. Luke's board agreed to.
"We continue to focus on getting an agreement between the university and the University of Kansas hospital," McCulloch said. "The negotiations necessarily involve a great level of detail. Without that detail, these agreements could be counterproductive and create more friction than cooperation."
Copyright 2018 The Lawrence Journal-World. All rights reserved. This material may not be published, broadcast, rewritten or redistributed. We strive to uphold our values for every story published.