Chat with KU Chancellor Robert Hemenway
September 10, 2007
This chat has already taken place. Read the transcript below.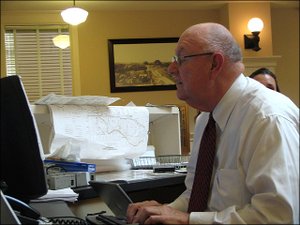 As the 16th chancellor of the University of Kansas, Robert Hemenway is the chief executive for the university, which spans the main campus in Lawrence, the Edwards Campus in Overland Park, the Medical Center campus in Kansas City, Kan., and its clinical branch in Wichita.
Moderator:
Hi folks! I'm Joel Mathis, managing editor for convergence. Chancellor Hemenway has joined us, and is ready to take your questions.
Robert Hemenway:
Hello everyone. We're open for business.
Moderator:
Before we get to our audience questions: Chancellor, what are the big issues on your plate - and KU's plate - for the 2007-08 school year?
Robert Hemenway:
Many of the issues are predictable. Every year we get a state appropriation that is 23% of our budget. Our jobi is to leverage that budget to the one billion dollar level. This year, as always, we will try to do an even better jobof teaching and challenging our students.
Provost Lariviere says research and graduate education are high priorities at KU. Do you agree, and do you think that emphasis hurts undergraduate students?
Robert Hemenway:
KU is amajor public research university. Each year we are expected to add to the state of knowledge in our faculty's disciplines. The research that faculty do is what makes them good teachers. You will not be an effective teacher unless you have knowledge to share. The idea of a knowledge economy is central to a university like KU.
Chancellor Hemeway,
Do you as Chancellor endorse the filth and blight around the campus? Enrollment is dropping and one would think that parents coming to visit the campus probably look at the environment around the university. It is hardly a place one would want their children to be at. Look at the public drinking across the street from the Regier Hall. Most all are underage and drinking on the public right of way. KU has gotten remiss in the past decade about these problems. Again, as Chancellor what is your position or do you care?
Robert Hemenway:
Everyone is entitled to their opinion, but I have to say that KU to me is a beautiful campus, and I disagree with your assertion that we are infected with filth and blight. As far as enrollment goes, the last three years have been the highest enrollment years in KU's history. i think most students and most faculty and staff too care verymuch about our university.
Moderator:
A big issue the last few months, for KU and other major universities, has been campus security - of course in light of the Virginia Tech massacre. There have been complaints about the university's ability to communicate with faculty, staff and students in the event of a crisis - the "gunman" report from early summer being a big example. What is KU doing to answer those concerns, and are you satisfied that the university is ready to handle an emergency?
Robert Hemenway:
We have been studying this issue closely, and the Provost and the Vice Chancellor for Information systems have led the effort. We now have a plan designed to alert the entire campus at once. A lot of the details are complicated, but I am confident that KU students are significantly safer today than they were before the Virginia Tech tragedy.
jrk:
Chancellor Hemenway, today's Journal-World had a story about differential tuition, and in it, provost lariviere said that the need for differential tuition is an indictment of the political process of setting tuition. what do you think of that and what do you think of differential tuition?
Robert Hemenway:
Differential tuition has become a very common processat manyuniversities, including many universities in the mid west. For example, the University of Colorado's resident tuition for 2008 charges A&S students $6635, but Business Students $9985. What KU has done, at the request of our students, is to implement differential tuition, but to make sure that money is set aside from the differential pool to help students who qualify as needy students. This is in keeping with our commitment to lower income students that they will not be priced out of a KU degree. One feature of our program is that with our new Tuition Compact, we guarantee students that differential tuition will increase o;nly 4% or less over the next four years.
This question is a little lengthy with its preface, but meaningless without some context.
Two years ago during the Student Senate elections at the KU, the Athletics Corporation made a rather strong-armed approach to ensuring a doubled fee increase to the Women & Non-Revenue Sports fee that was on the ballot. Athletes (celebrity and otherwise) pulled their fellow students to computers, and watched them cast ballots-- highly questionable for its ethics.
Last year, the Student Senate held a special election on the issue of buses. The election was unable to garner the 10% of the student populace needed to certify the election. The Senate proceeded to ignore the election (breaking their Rules & Regulations) and pass the financial measure anyways. By the end of the semester, the transit system had been moved to the parking department, with student influence being regulated to two votes on a larger committee (from their previous full control).
Additionally, students have been scaled out of hiring practices, for fear that it prompts an opportunity for personal gain (hiring for grades, essentially). All of these items are coupled with the fact that previously student involvement on boards and committees at KU was 20%. Coupled with the reality that it is an offense for students to drink responsibly on campus, but yet the Athletics Corporation and you yourself can suspend the rules for adult drinking at money-raising venues along with the declining influence of such organizations as the All Scholarship Hall Council and All University Residence Hall council being subjected to strong regulations and less input in their dealings with housing:
Is it now a policy at KU to encourage the University and related corporations to take power out of direct student hands, or are these mostly issues that you personally are unaware of?

Robert Hemenway:
You cite a number of issues, and I have to admit that I am unfamiliar with many of them. Others I simply do not understand, such as "hiring for grades." I certainly hope we are not doing this. You seem frustrated about campus processes. I would welcome the opportunity to sit down with you and discuss the issues that trouble you.
You're on the Board of the Greater Kansas City Chamber of Commerce, the Hall Foundation, and the Civic Council of Kansas City. Does that have anything to do with why you're selling KU Hospital out to the KCMO establishment?
Robert Hemenway:
It is not uncommon in KU's history for the KUChancellor to serve civic boards across the region. I serve because it is one way that I can help KU be successful throughout the region. I don't understand why you would say that the KU Hospital is being "sold out." I led the effort for the KU hospital to be governed by a hospital authority, and this effort has been a great success for the hospital. Just recently the hospital received redognition from the US News ranking system. The real issue is how do we sustain that success and how the hospital and the medical center work together to have even greater success in the future. The American Medical Association says that we need to train at least 30% more physicians. That should be the focus of our efforts.
Moderator:
A question from our KU beat reporter...
At convocation last week, you mentioned that stricter academic requirements would probably lead to a slight drop in enrollment. Several others at KU said that while the greater number of students who have been dismissed, while seeming like a "bad news" story, is actually good news. What are your thoughts on dismissing students who have not lived up the KU's academic standards?
Robert Hemenway:
You have to have standards, and you have to enforce them. We simply discovered tht we were not enforcing our standards in an efficient way. That will have some effect on our over-all enrollment, but I believe that it was the right thing to do. Many of those students will return and eventually graduate from KU, and they will be better students for the rest of their lives because of it.
I wasnt satisfied with your answer about campus security. When will more details be available? And the Virginia Tech report recommended campuses take many actions besides just improving campus communications. Will KU address these recommendations as well, and will the campus community be able to participate or find out what was done?
Robert Hemenway:
The provost has sent out copies of the Virginia Tech report. There are a number of good ideas in thereport, and the task force working on this will consider them. As always with KU there will be the opportunity for others to be involved in the review and the feed back as we formulate the over all response. My answer probably reflects the fact that I am not on the task force. I was consulted about whether we could afford thecost of making security improvements, and my answer was, "absolutely."
You know why I am writing. Along with my many friends in the University Women's Club, I was horrified to discover that the Air Conditioning unit atop the new Multi-Cultural Center being built North of the KS Union, will block one of the best views in the city from the 6th floor Malott Room.
As you know the Malott Room was entrusted to the care of the UWC by former Chancellor Franklin Murphy for the benefit of KU, and especially KU women. Can ANYTHING BE DONE AT THIS LATE DATE TO MOVE THAT UNiT TO THE GROUND? WE ARE ALL APPALLED THAT WE WERE NOT WARNED OR CONSULTED ABOUT THIS EYESORE.
Moderator:
We'll post one more question after this.
Robert Hemenway:
Mary Elizabeth, as always I appreciate your commitment to keeping the campus beautiful. I heard of thisissue relatively recently and I will review the placement of the structure. If you have been following this chat room you know that people have strong and differing opinions about campus esthetics. In the end every decision has the potential to obstruct someone's view, but we have to make decisions and move on. I will promise you that we will review the decisio;n, and if you want to contact me in a week or two I will be glad to share my thinking with you.
Moderator:
Last one: A couple of years ago, the city and KU were at odds over the decision to tear down old houses and build scholarship halls on Ohio Street. There was a lot of talk then about how to mend the "town-gown" relationship. How is that relationship being tended to these days? Does it matter to KU if there is a good relationship there?
Robert Hemenway:
Actually, the houses on Ohio street that you refer to seem to me a perfect example of why KU and Lawrence have such a good relationship. We resolved this issue by responding to the neighborhood's concerns, and we have ended up with two magnificent scholarship halls that everyone who I have talked to seem quite proud of. This seems to me a great success for town and gown relationships.
Moderator:
Thanks to Chancellor Hemenway for joining us!