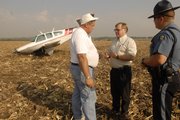 An engine failure caused a Salina man to make a crash landing this morning in a Jefferson County cornfield about four miles northwest of the Lawrence Municipal Airport.
James Roesner, 52, was the only person aboard the Beechcraft Bonanza single-engine plane that made the landing at 8:30 a.m. along U.S. Highway 24-59. Roesner said he was flying from Abilene to the Charles B. Wheeler Downtown Airport in Kansas City, Mo., to conduct business.
"I had an engine failure, and unfortunately due to my altitude I could not quite make the field of Lawrence," Roesner said.
He said he was in contact with Kansas City air traffic controllers, who helped him once his engine failed. He also wanted to avoid landing on the highway.
Federal Aviation Administration spokesman Tony Molinaro said an investigation normally takes up to two weeks.
Because the small airplane sustained damage to the nose gear, the FAA is considering it a noninjury accident instead of an incident which deals with mechanical failure but no crash damage, Molinaro said.
Copyright 2018 The Lawrence Journal-World. All rights reserved. This material may not be published, broadcast, rewritten or redistributed. We strive to uphold our values for every story published.