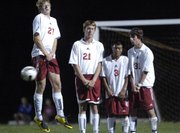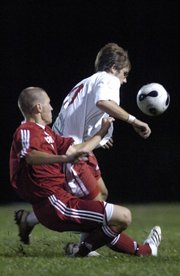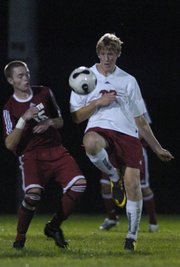 Lawrence High's boys soccer team is in the middle of an awful spell that simply may become known as "The Drought."
More than two weeks have passed since the Lions scored a goal, and the ugliness continued Thursday night in a 2-0 loss against Olathe North at Youth Sports, Inc.
That's a span of 345 minutes : and counting.
"It's bad," senior Matt Shipley said. "It's a pretty long dry spell, and it hurts."
LHS was outplayed in nearly every facet of the game Thursday, and the Eagles didn't take long to find the back of the net.
Max Doby's cross into the penalty box to Brandon Butler resulted in Olathe North's first goal in just the second minute. Butler scissor-kicked his shot in mid-air over LHS goalkeeper Sean Simmons, and the Eagles had little trouble thwarting what few goal-scoring chances the Lions presented.
LHS head coach Bill Kelly has been trying to find the right combination of players to change the team's fortunes, but nothing has worked, and shots continue to sail wide.
"We're in position to take the shots, and we take the shots, but holy smokes, it's like the goal's only two inches wide," Kelly said. "We practice shooting every day, and we do pretty good in practice, but it's just not consistent enough to be able to carry it out in a game."
Olathe North (4-2) mounted several scoring opportunities in the early going, keeping the Lions on their heels. The Eagles padded their lead in the 14th minute when Ryan Klaus blasted his shot off a rebound in the penalty area into the right corner of the net.
Even that net appeared to be teasing the Lions. With 20 minutes gone by, the game was stopped so electrical tape could be brought out to patch up a hole that had formed in the side.
On the other end, Lawrence (1-4) didn't manage a single shot on goal in the first half. That didn't occur until senior Rex Hargis' free kick from midfield in the 69th minute.
For players, the results have been frustrating, to say the least.
"We're just not stringing enough passes together to even get up toward the offensive end," LHS junior Dar Fornelli said. "So, we don't really have any chances to put up shots. We can do three passes in a row and then give it away at midfield."
Olathe North was the aggressor throughout and had eight corner kicks to just one for LHS. Shipley came closest to scoring a Lions goal when he was one-on-one with goalkeeper Trent Rogers in the first half, but he shanked his kick wide-right.
As frustration builds, Kelly can only hope just one fortuitous bounce rolls his team's way to break the dry spell.
"I'm driving myself nuts to figure out what we need to do to score a goal," he said. "I'd even go out there and score a coach's goal if I could."
Copyright 2018 The Lawrence Journal-World. All rights reserved. This material may not be published, broadcast, rewritten or redistributed. We strive to uphold our values for every story published.