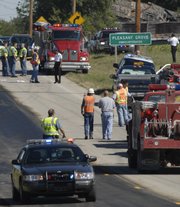 Two construction workers were killed in an accident Tuesday morning, south of Lawrence
Two construction workers in a work zone along U.S. Highway 59 were killed this morning in a hit-and-run accident.
Two women were taken into custody, after a 10-mile chase into Osage County, along U.S. Highway 56 that ended when law enforcement used "stop sticks" to puncture two tires of their half-ton pickup truck. Sabrina J. Morgan, 26, and Ramona I. Morgan, 48, both of Chewelah, Wash., were taken to the Osage County Jail. Authorities named Ramona Morgan as the driver.
U.S. 59 was still closed as of 4:30 p.m. while investigation of the accident continued. KDOT has suspended repaving work on the road until next week. Both lanes of traffic should be open Wednesday morning.
One of victims was a KDOT employee, the other was a contract employee.
The KDOT employee killed was Tyrone T. Korte, 30, of Seneca. Korte was an Engineering Technician and had worked at KDOT since November 2002. The second, a contract employee, was Rolland Griffith, a 24-year-old from El Dorado.
Jean Thompson, safety director at Dustrol Inc., Towanda, confirmed Griffith was one of their employees. He had worked with the company for less than a year.
Dustrol, according to their web site, does a variety of road surfacing work. A crew of 14 is working on the U.S. 59 project. It is the first time the company has lost an employee on such a project, Thompson said.
"We're continuing to get further information from the scene," said Douglas County Sheriff's Lt. Kari Wempe. "We request anyone who was in the area at the time to give our office or the Highway Patrol a call if they observed anything and can help us with our investigation."
Timeline
The emergency call came in just before 10 a.m. Emergency crews responded to the scene, between North 800 and 900 roads at Pleasant Grove, where construction crews had been repaving the road.
"They both were wearing safety vests," Wempe said.
Kansas Highway Patrol spokesman Lt. John Eichkorn said that at 10:12 this morning, a patrol trooper responding to the scene spotted the vehicle wanted in connection with the accident heading west on U.S. 56, west of Overbrook. The trooper attempted to stop the vehicle, Eichkorn said, but a pursuit began that included troopers and Osage County law enforcement. About 10 minutes later, south of Scranton the vehicle drove over stop sticks deployed by officers, flattening two tires. The truck stopped at two miles later, where the two female occupants were taken into custody.
Two KDOT workers were killed in construction zone accidents in 2005. They were the first KDOT employees killed since November 1997.
Wempe said the accident investigation would hamper traffic along U.S. 59 the rest of the day.
"I would imagine we are going to be out there most of the day," she said. "We have accident reconstructionists that have been called to the scene from our office and that are diagramming the scene."
The accident, she added, serves as a reminder to drivers to exercise caution in construction zones.
"I'd just encourage drivers to be very alert going through construction sites," Wempe said. "Be aware that they do have lots of movement among individuals doing their jobs. Be very cautious. "
More details as they develop.
Copyright 2018 The Lawrence Journal-World. All rights reserved. This material may not be published, broadcast, rewritten or redistributed. We strive to uphold our values for every story published.