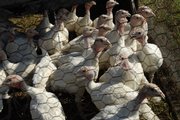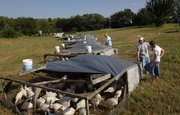 Kansas and federal wildlife agencies are gearing up for a nationwide surveillance program this fall designed for early detection of avian flu.
This is the second year for the program, and there has been no evidence of the dangerous strain of the bird flu in the United States. But that strain, known in scientific terms as highly pathogenic avian influenza virus H5N1, has struck bird flocks in other countries and has even been contracted by a few people.
"The odds are pretty slim that this particular strain that causes concern will show up here, but it's possible," said Bob Mathews, spokesman for the Kansas Department of Wildlife and Parks. "We're ready to deal with it if it does."
State and federal authorities hope to test at least 1,000 game birds and poultry in Kansas, and they will need cooperation from hunters and poultry raisers.
Wildlife and Parks officers will watch for hunters who have bagged waterfowl and ask to test the birds. The hunters' cooperation is strictly voluntary. The testing process includes taking quick swabs of the mouth and intestinal tract. Hunters were cooperative last year, Mathews said.
"I think there were a number of hunters out there who were aware of the program and after a day's hunt voluntarily went to the nearest Wildlife and Parks office to have the samples taken," he said.
The focus is on migratory waterfowl such as mallards, teal and other "dabbling duck" species. Wildlife officers also will watch for unusual deaths of the birds.
In addition to waterfowl, wildlife agencies hope to test upland birds such as quail and "backyard flocks," which include chickens, said Dr. Paul Grosdidier, state veterinarian with the Kansas Animal Health Department. They hope people who raise quail and chickens will voluntarily allow their flocks to be tested.
"We wouldn't be able to test every flock in the state," Grosdidier said. "What you're hoping to do is get a good representative sample. It's largely for sentinel purposes, to see if you have any indication of the avian flu presence."
Game or poultry breeders who want some of their flocks to be tested on a quarterly basis can call the Kansas Animal Health Department at (785) 296-2326. There is no charge.
Fred and Margaret Clark, of rural Lawrence, have been raising poultry for 10 years. Their flocks were not tested last year, Margaret Clark said.
"We would be willing to consider it," she said.
The Clarks currently have about 3,000 chickens but their numbers vary at different times of the year, Margaret Clark said. Kansas is not a large producer of poultry, and the Clarks' flocks are small compared to large breeders in other states, she said. She, too, thinks the chances of avian flu showing up in local chickens is slim. They have not made any changes in their operation since the bird flu publicity began a couple of years ago.
Bird samples will be tested at the Kansas State Veterinary Diagnostic Laboratory. If there is a positive result, further testing would be done at the U.S. Department of Agriculture's National Veterinary Services laboratory in Ames, Iowa, said Carol Bannerman, spokeswoman for the USDA's Wildlife Services.
An avian flu emergency response plan is already in place, Bannerman said. If wild birds are infected, the focus would be keeping domestic animals away from them, she said.
"There would be increased surveillance in whatever type of species has the disease, and there would be an education program for individuals in the area," Bannerman said. "It would not indicate there is going to be an automatic transmission of the disease to either poultry or humans."
Copyright 2018 The Lawrence Journal-World. All rights reserved. This material may not be published, broadcast, rewritten or redistributed. We strive to uphold our values for every story published.