-->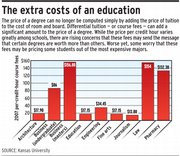 Differential tuition
On the street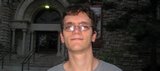 It doesn't really bother me too much. You know what you're doing when you go for your major.
At Kansas University, tuition for in-state freshmen costs $213 per credit hour, but that hardly tells the whole story of the price of a college education.
Even ignoring room and board, or required campus fees, a sizable additional cost comes from differential tuition, or course fees, which range from $13.80 per credit hour in the School of Journalism to as much as $156.80 per hour for master's degree classes offered in the School of Business.
Those extra costs add up quickly. They've prompted concerns about the equity of declaring that some degrees are worth more than others, or of pricing poorer students out of certain degrees or fields.
"I don't know any university presidents or provosts who are happy with differential tuition," KU Provost Richard Lariviere said. "In some ways, it's an indictment of the political process we go through in setting tuition."
The price
This is the start of Janae Newman's second year at KU.
She's a pre-pharmacy student from Kansas City, Kan. Assuming she's taking the recommended class schedule for a pre-pharmacy student, she's paying about $6,400 for tuition this year.
But come next year, when she begins taking classes in the School of Pharmacy, her tuition will jump to about $10,500. As a pharmacy student, she'll be paying $140.25 extra per credit hour for each class next year.
"I don't really know how it's justified," she said. "All courses should be a standard amount."
Still, Newman's taking a realistic view of the extra costs of her six-year pharmacy education, which will result in her earning a doctoral degree. She considers it an investment.
According to four-year course fee projections that KU released this year, Newman will have paid at least an additional $20,010 for her degree. And that number is probably low, considering KU has not set the differential tuition for her final year. The trend has been an increase each year.
The concern
Lariviere said the university has seen anecdotal evidence that the huge numbers, like the one Newman faces, are beginning to price students out of certain majors.
Instead of pursuing a pharmacy or engineering degree, poorer students, particularly those in minority groups, may be choosing less expensive majors, like Spanish or English.
KU spokeswoman Lynn Bretz said last weekthat KU has started to do research on whether this anecdotal evidence is supported - or if minority enrollments have held up. While it's too early for results, she said early indicators are that there has actually been a slight increase in the number of minority students in certain programs like engineering.
"A significant portion of tuition enhancement and differential tuition is set aside for scholarship money," Lariviere said. "I'm pretty sure that's why our numbers have held steady."
In the School of Law, which charges even more than pharmacy, Dean Gail Agrawal said about one-fourth of all differential tuition money goes to student scholarships. The differential tuition rate increases $25 next year, making the law school's rate the highest.
Agrawal said the skyrocketing cost of a legal education, though not particularly at KU, has her terribly concerned.
In fact, KU's price, with differential tuition, remains below the median and the mode of public law schools across the country.
But it still bothers Agrawal that such a practice is necessary.
"A public education has the power to change lives. It changed mine, and I think we can change these students," she said. "I'm committed to keeping the price down and providing as much financial aid as possible."
If that doesn't happen, Agrawal said, she's concerned the bar and the bench, the lawyers and the judges, will become the domain of the white and the wealthy.
"If that happens, that will be the failure of our judicial system," she said.
The rationale
In the School of Business, differential tuition led to four new majors, about 10 new faculty positions and about $500,000 per year in new student scholarships and salaries.
Dean William Fuerst said students came to him requesting differential tuition. They were getting paid less because they didn't have the specialized degrees, like finance or supply chain management, that their competitors at other schools had. In a way, these students are borrowing from their future earnings to pay higher costs now, he said.
An undergraduate business student pays $86 per business class credit hour this year.
"This was a highly student-led process," Fuerst said. "Students saw this as an opportunity to invest in their careers. We're just executing the plan the students developed."
Fuerst said he meets regularly with students to make sure they're still reaping the benefits of differential tuition.
School of Journalism Dean Ann Brill said her school took a touch-it, feel-it approach to instituting its differential tuition.
"We're only using differential tuition money for things the students can use," she said.
The school has invested in computers, software and student salaries with its differential tuition money. The Journalism School has the lowest differential tuition rate of the eight schools that charge it.
"The cost is really not prohibitive," Brill said. "Because of differential tuition, the kinds of tools you need to be a journalist, we're going to provide to you."
The future
KU is by no means the only school using differential tuition. The universities of Wisconsin, Nebraska and Arizona State, among others, all charge differential rates using their own formula.
Lariviere, KU's provost, said he'd like nothing better than to be able to get rid of differential tuition across the board.
"It sends the message that some degrees are worth more than others, which isn't right," he said.
But the reality is, he said, in almost every case, that's not possible. While he said the university could probably afford to, hypothetically, eliminate the fees in journalism or the School of Fine Arts, other differential tuition rates are so high it's just not possible.
"They're so big in terms of the money we raise that we'd have to raise tuition across the board," he said. "And is it fair to ask an English major to pay a lot more per year so another student can get a pharmacy degree?"
And students like Newman and freshman Ashley Robb, for the most part, seem to have come to grips with that reality.
"I understand that certain degrees, like nursing, are more expensive," said Robb, a communications studies major. "You have to pay for equipment in certain majors.
"But I think it does send the message that certain degrees are worth more."
And that's the last thing academic administrators want to hear.
Copyright 2018 The Lawrence Journal-World. All rights reserved. This material may not be published, broadcast, rewritten or redistributed. We strive to uphold our values for every story published.