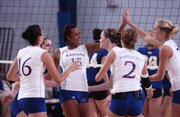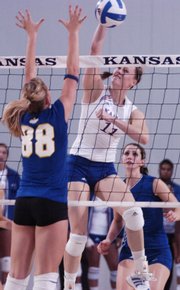 After playing at Oregon and Michigan State the last few weekends, Kansas University's volleyball team may have been recovering from jetlag when it finally received a chance to play in front of a home crowd against UMKC on Tuesday night at Horejsi Center.
The Kangaroos proved to be a difficult opponent, but the Jayhawks recovered from deficits in the first and third games to sweep UMKC 30-26, 30-17 and 30-28.
The road trips prior to the home opener sounded like something out of a bad comedy with layovers, hustling through airports and even a flight from Oregon that made an unexpected stop in Montana when a passenger became ill.
Coach Ray Bechard's Jayhawks (4-3) had a rough couple of weekends, but they weren't crying jetlag after narrowly defeating the 'Roos (3-6).
"I don't know if we can blame it on that," senior Emily Brown said.
"There were times out there when I thought we still looked a little sluggish," Bechard said.
UMKC led 19-16 in the first game and 25-20 in the third before the Jayhawks rallied to win both.
In the first game, sophomore Katie Martincich helped rally KU. The Jayhawks went on a 5-0 scoring run while she served to take a 21-19 lead.
UMKC would come back to tie the match at 23 before senior Caitlin Mahoney delivered an unplayable spike for one of her five kills on the evening, and KU went on to win the first game.
After handling UMKC in the second game, the final victory proved more difficult. Down 25-20, the Jayhawks scored six straight to gain the lead for the first time in the third game.
UMKC re-took the lead 28-27 before Brown scored on a spike and then served on the next two game-winning points.
Bechard said it wasn't one of Brown's better performances from an attack standpoint, but she did have 27 assists, eight digs and five blocks.
"She obviously knows the routine and what we need from her," he said.
Brown agreed that she could have played better in the sweep, but when the third game was tight at the end, she didn't mess around.
Bechard was pleased to see his team rally and finish off UMKC.
"It would be a little bit better if we didn't put ourselves in that situation," he said, noting the Jayhawks had too many hitting errors.
However, Bechard was pleased with the team's service and 10 blocks.
The Jayhawks wanted to make sure they defended their home court.
"Not in our house. It's not gonna happen here," sophomore Brittany Williams, who recorded six vicious kills, said of the team's mentality Tuesday night. "We are really scrappy, we push each other. I think that's what makes us a great team."
Martincich led KU with 14 digs, Savannah Noyes recorded a team-best 10 kills and Flavia Lino had three service aces in the team's first home tilt.
Before the match started, Bechard was recognized by KU athletic director Lew Perkins for becoming the school's winningest volleyball coach over the weekend when KU beat Missouri State in East Lansing, Mich., for Bechard's 151st victory.
Perkins presented Bechard with a volleyball to commemorate the coach's achievement.
"That's the way they do things around here, first class all the time," Bechard said following his 152nd victory.
The Jayhawks hope to build some momentum with more home matches this weekend at the Jayhawk Invitational Friday and Saturday.
"We're looking forward to getting in our own beds and playing in our own gym," Bechard said.
Copyright 2018 The Lawrence Journal-World. All rights reserved. This material may not be published, broadcast, rewritten or redistributed. We strive to uphold our values for every story published.