Jayhawk fans will break out their barbecue grills and coolers today, hours before the 6 p.m. kickoff with Central Michigan.
And with 40,000 people expected to attend the season opener at Kansas University's Memorial Stadium, Lawrence police officers will be on the lookout for underage drinkers.
The police department announced this week that during KU football home games, officers will try to reduce the frequency of minors in possession of alcohol, adults serving alcohol to minors and public consumption of alcohol in city streets, alleys and sidewalks.
The environment around the stadium for tailgaters also will change because of construction of the new Anderson Family Football Complex and practice fields near the stadium.
Several stadium parking spots have been taken away this season, but KU leaders have designated for tailgating - to allow cooking and consumption of alcoholic beverages - several more lots that stretch from the stadium across campus to Allen Fieldhouse.
A free shuttle bus will run between the lots and the stadium beginning at 4 p.m.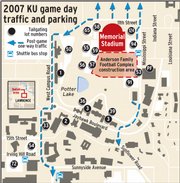 Public toll parking for home games no longer will be available on Memorial Drive or in the Mississippi Street garage. KU will sell a limited number of spaces in the lot near the Burge Union, and free parking is available in the lot between Allen Fieldhouse and the Student Recreation Center.
The children's fun zone near the stadium will be canceled this year because of construction.
Tailgaiting on Campanile Hill will be limited, but some spots are still available.
After the game, four streets - Maine, Alabama, Illinois and Mississippi - will be designated one-way north from the stadium to Ninth Street until traffic calms down. Also, stretches of West Campus Road, Naismith Drive, Memorial Drive and Sunflower Road will be one-way to the south between the stadium and Sunnyside Road.
Copyright 2018 The Lawrence Journal-World. All rights reserved. This material may not be published, broadcast, rewritten or redistributed. We strive to uphold our values for every story published.