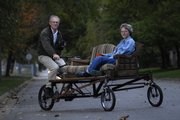 Eric Farnsworth is posing the question, but he doesn't expect much actual debate.
Are his creations bikes, or are they art?
For years, Farnsworth has made functional creations out of scrap bicycles and other parts. For instance:
¢ A bike with a surf board mounted on top.
¢ One with a shopping cart welded on the front, perfect for hauling groceries or taking in the recycling.
¢ A bicycle with a platform and couch mounted to the back.
¢ Other miscellaneous functional bikes, like the three-wheel bike City Commissioner Boog Highberger rides around town.
Farnsworth is going to show off about two dozen of his bikes during "something resembling an art show" today. It runs from 3 p.m.-5 p.m. at 411 E. Ninth St., followed by a bike ride around the neighborhood at 5.
The idea came from a discussion with artist David Loewenstein, who is hosting the event at his studio.
"This all started because I approached him as somebody who's actually making a living doing what he does," Farnsworth says. " I wondered whether he could actually sell some of this stuff. He said, 'Well, it's kind of a stretch to call these bikes. Let's call them art.'"
Farnsworth, who makes the bikes in his basement, says he doesn't want bicycle-making to become a full-time job, but he'd like to sell the ones he has and take occasional commissions from people with specific wishes.
But it's really not about money, he says.
"I think I'll probably do this," he says, "whether anyone encourages me to or not."
Copyright 2018 The Lawrence Journal-World. All rights reserved. This material may not be published, broadcast, rewritten or redistributed. We strive to uphold our values for every story published.