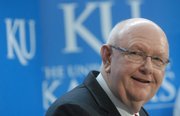 KU's 16th chancellor, Robert Hemenway, announced Dec. 8, 2008, that he would retire at the end of the current academic year. He's been chancellor for 14 years.
All six regents university presidents received a raise from the Kansas Board of Regents today.
Kansas University Chancellor Robert Hemenway remains the highest paid of the six, with state compensation of $260,660 and a total compensation cap of $332,051. The compensation cap reflects that Hemenway receives additional compensation from the KU Endowment Association through private gifts.
Previously, Hemenway's state compensation was $250,319, with a total compensation cap of $319,280.
Hemenway and KSU President Jon Wefald are the only university leaders making more than $300,000.
Copyright 2018 The Lawrence Journal-World. All rights reserved. This material may not be published, broadcast, rewritten or redistributed. We strive to uphold our values for every story published.