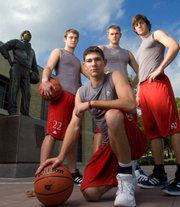 Like 16,300 fans in the stands, Mario Chalmers annually gets a kick out of the singing, dancing and joke-making at Late Night in the Phog at Allen Fieldhouse.
His favorite part of Kansas University's season-opening basketball celebration, however, is the most serious portion of the evening - a short intrasquad scrimmage to conclude the festivities.
"It's the highlight of the night," Chalmers, KU's junior guard from Anchorage, Alaska, said of the intrasquad. "We always want to play, to put on a show for the fans. We've been working hard. We want to show them what we've got, what we can do."
The Jayhawks will scrimmage for about 20 minutes, with a running clock, of course, to conclude the 23rd annual Late Night in the Phog. KU's women's players also will hold an intrasquad at Late Night, which will start at 6:45 p.m. and conclude about 9:30.
Admission is free. Doors will open at 6 p.m. Seating is on a first-come, first-served basis. Fans are encouraged to bring nonperishable food items, which KU's athletic department will donate to local food pantries. Children 12 and under will not be admitted without an adult, and the Fieldhouse doors will be closed when the arena reaches capacity.
"I think the scrimmage is a lot of fun. You get a lot of goosebumps," senior center Sasha Kaun said. "I think it's harder for the freshmen. It's their first time playing in front of 16,000 people.
"The young guys will be nervous. For us (veterans), it's another pickup game, I think."
Senior Russell Robinson is looking forward to his final Late Night scrimmage.
"The scrimmage jump-starts the season. You have practice the next day, but the scrimmage sets the tone for coach and the players," Robinson said. "It's the first time the fans get to see us. We want to have a great scrimmage. It's a chance for the freshmen to get a taste of it, too."
Copyright 2018 The Lawrence Journal-World. All rights reserved. This material may not be published, broadcast, rewritten or redistributed. We strive to uphold our values for every story published.