Photo Gallery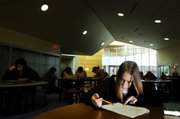 South Junior High School construction
The work still is not over at South Junior High School.
Because of 45 days of weather delays, the new completion date has been moved back from Oct. 1 to Nov. 16. On that day, school officials say, everything inside and outside should be finished, even demolition of the old South building.
"After today, what we're lacking in completing the facility is the main and auxiliary gymnasiums, and there's a couple classrooms down there and locker rooms, and then the parking lot," said Tom Bracciano, the school district's division director for facilities and operations. ": We would like to have some dry weather to get the track and the parking lot completed."
For South faculty and staff, the final product can't come soon enough. The start of classes in August was delayed a few days so workers could make more progress on the building.
And today, some teachers still don't have a finished classroom so they've shared classrooms - and even used hallways and the cafeteria to teach students.
"The end result for me is when we're finally finished with the construction that we'll have a happy faculty and a happy staff," said Principal Will Fernandez.
But the delay did not come as a surprise to the South employees or district officials.
"It was an aggressive schedule to begin with," Fernandez said. "We were up to date. It wasn't a shock when they knew they wouldn't finish. Everyone else was expecting it to be done on time. We knew they were falling behind."
Even so, the project will probably come in under the $31.9 million budget, which includes asbestos abatement and furnishings.
"For all the bond issue projects, we're anticipating having at least $1.5 million remaining when we're done," Bracciano said.
Bracciano believes the new South will be a model for other junior high schools in Kansas. But Fernandez is more focused on how his staff and students will feel.
"I feel like for our teachers, the anxiety and stress will be unloaded," he said.
Copyright 2018 The Lawrence Journal-World. All rights reserved. This material may not be published, broadcast, rewritten or redistributed. We strive to uphold our values for every story published.