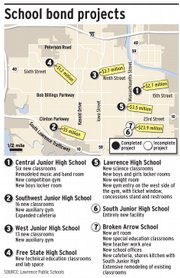 Photo Gallery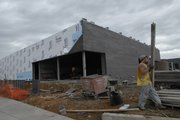 School construction
The work that resulted from a $54 million bond issue in 2005 is done - well, nearly done.
Gone are the portable classrooms at the junior high schools. In their place are new wings to schools, as well as new classrooms and locker rooms. Older schools are now new and improved. One school, South Junior High, which still needs work, was totally rebuilt.
Central Junior High
The building, 1400 Mass., formerly Liberty Memorial High School until 1954, received a $2.6 million makeover with six new classrooms and other improvements. The old Coach Nanny Duver Gym in the center of the building last school year became choral and band rooms.
"It's state of the art, and it's bigger than we had imagined," said band teacher Johannah Cox, who has taught 22 years at Central.
The gym, completed in the spring, on the school's northern side, will be dedicated in September and named for Duver. Also, about $700,000 in capital outlay funds - separate from the bond issue - have added new windows to the old building.
Lawrence High School
The $3.4 million improvements at LHS include a new chemistry wing with three classrooms.
"For the first time in recent memory, we have all science rooms in the same wing," said Alan Gleue, LHS science department chairman.
Dirk Wedd, the LHS football coach and PE teacher, says the new weight room and expanded boys and girls locker rooms have allowed more students to participate in weightlifting classes. It's also made things easier on athletes.
Free State High
For $1.18 million, classrooms and a lab area for technical education allows students to get hands-on work for woods, automotive and welding.
"It's useful. It's comfortable. Now we can expand our program," teacher David Bailey said.
A new greenhouse was added next to the southwestern corner of the building.
West Junior High
Portable classrooms around for decades are gone with the $3.6 million addition.
Construction workers added a section of 13 classrooms to the middle of the building. Being able to group department teachers together and have all students inside the building has drastically improved the atmosphere, said Principal Myron Melton.
"Everything's just more cohesive," he said.
Students can also now take advantage of a new auxiliary gymnasium for class and practice.
Construction crews are finishing up handicap-accessible ramps now on the building's southern entrance.
Southwest Junior High
Elbow room is now a luxury in the cafeteria with the extra space added. Tables aren't jammed together any more.
"It affects how comfortable everybody is when they are having lunch," Southwest Principal Trish Bransky said.
The project - bid for $5 million and completed mostly in February - also added 16 classes and an auxiliary gym. Like the other junior high schools, the portable classrooms are history with the now wide-open space inside.
South Junior High, Broken Arrow School
The largest part of the bond project, bid for $24 million, is the new South Junior High School, renovation and expansion at Broken Arrow School, and demolition of the old South in the 2700 block of Louisiana Street.
Remodeling and other projects like a new Broken Arrow cafeteria are done. During the next couple of months, workers will continue to add on to the office at the front of the building and then finish up the job at the new South.
Removing asbestos in Broken Arrow and the old South was bid for $558,000.
Overall construction of the bond projects came in under budget as bids totaled $39.9 million compared with a budgeted $41.4. Other costs include architectural plans and construction management, building permits, furnishings and equipment.
Tom , the district's division director for operations and facility planning, said he expected the final cost to end up $1.5 million below the $54 million. He said the district could use the extra money to make more improvements at any of those schools.
Copyright 2018 The Lawrence Journal-World. All rights reserved. This material may not be published, broadcast, rewritten or redistributed. We strive to uphold our values for every story published.