Will Fernandez is easy to find before school starts each day. Just go to the construction fence northeast of South Junior High School.
"Every morning, I walk back there when I first get here. The construction workers are all getting there," South's principal said. "I just sit there and look around for five or six minutes and see what things look like."
And in the last two weeks, he's had a lot more to see - two-story masonry walls going up, brick by brick, finally giving some dimension to the 120,000-square-foot junior high project that builders tell him will be ready for students next fall.
"It looks pretty impressive right now," Fernandez said. "It's going good. And it's going fast. ... You could say the excitement is building."
The sights and sounds of school construction - high chain-link fences, rumbling concrete trucks and whining electric masonry saws - are all over the city on seven school campuses.
The $31.9 million South project includes razing the old building, which opened in 1968, and constructing a cafeteria to be shared with Broken Arrow School.
Also, construction crews are working on projects at Lawrence's three other junior highs:
¢ At Southwest, work is moving along on $6.9 million in projects that include adding classrooms and enlarging the cafeteria.
¢ At West, $6 million in construction is under way on building 13 classrooms.
¢ At Central, $4 million is being spent on six classrooms and a gym addition.
There also are projects going on at both high schools: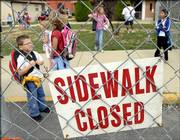 ¢ $1.8 million for a new industrial technology addition at Free State High School.
¢ $3.6 million for east gym renovations and new locker rooms and for science labs at Lawrence High School.
Last week, Lee Fuller, project director for the DLR Group, told Lawrence's school board projects were on schedule and, so far, within budget.
Voters approved a $54 million bond issue in April 2005 to fund the array of projects.
Broken Arrow
The South construction is just to the east of Broken Arrow School, where chain-link fences have been erected to keep students out of the hard-hat area.
Construction noise has just become part of the school day, said Brian McCaffrey, Broken Arrow's principal.
"It is amazing to walk into a classroom - a kindergarten class or a first- or second-grade class - knowing that right on the other side of the wall is a brand new junior high being built," McCaffrey said.
"I told my staff the other day how proud I was in walking into a classroom and seeing kids focused on instruction, and they were doing a wonderful job of learning with all the banging and the bulldozers just on the other side of the wall."
Also, part of the school's playground area was reduced during the construction - the play area those students formerly had is now in the footprint of the new South building.
Board tour
Lawrence school board members will take a tour today of construction areas around the district. Here's their schedule: ¢ Free State High School - 8:45 a.m. to 9:15 a.m. ¢ West Junior High - 9:25 a.m. to 9:55 a.m. ¢ Hillcrest School - 10:05 a.m. to 10:35 a.m. On tour because of overcrowding, but is not under construction. ¢ Southwest Junior High - 10:45 a.m. to 11:15 a.m. ¢ South Junior High/Broken Arrow School - 12:40 p.m. to 1:15 p.m. ¢ Lawrence High School - 1:25 p.m. to 1:55 p.m. ¢ Central Junior High - 2:05 p.m. to 2:35 p.m.
And students won't have to walk to lunch through a chain-link fence corridor over to the South building after this year.
"That's exciting to see them working on the new kitchen and cafeteria, knowing our kids will have a chance to use that next year," McCaffrey said.
South Junior High
As the walls go up on the cafeteria and the auditorium for the new South building, the junior high's 600 students and 100 faculty and staff members are keeping tabs on the activity.
Tawnia Lashley, who teaches two photography classes at South, is having her students make a pictorial history of the progress, getting photos for the yearbook. Fernandez said he hoped to use the photos to create a presentation showing how the building went up.
"Because of the design of this building, with all brick and no windows, we are not hearing any construction noise," Fernandez said. "So it's not really affecting the school climate, the school culture. We made the students aware of our expectations of them while that is being built."
In February and March, portable classrooms that were on what is now the construction area were moved to the front and south part of the school, near the tennis courts.
A construction trailer is on the track area, he said.
"Football games are held," Fernandez said. "It's not affecting our football field. And as far as the track, we just use that as a practice field. We don't have competitions here. We always go to Southwest or one of the other schools."
Southwest Junior High
When you have $6.9 million of construction going on, it can get a little noisy, said Trish Bransky, Southwest Junior High School's principal.
"There's construction going on right outside some of the classrooms," Bransky said. "But we've got great kids and teachers who are very tolerant and tuning out to the best of their ability. Nobody's going around grumpy because of it. I think we're putting up with a little bit now because our result will be worthwhile."
The enlarged cafeteria space should be done sometime in mid-October, Bransky said.
The rest of the construction - 16 classrooms, four offices, a small conference space and another gym - is slated to be finished in February.
"We're really pleased with the way things are looking," she said. "The brick facade is going up. I've had people tell me that it's hard to tell the old building from the new building, it's blended in so seamlessly."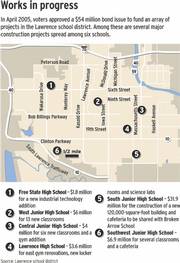 The plan is to move in during the second semester, she said.
West Junior High
West Junior High's $6 million project - 13 new classrooms (nine to replace portables) and a new auxiliary gym - is on schedule, said Principal Myron Melton.
But the construction noise hasn't caused much problem so far academically, he said.
"Here, in probably another week to a week and a half, I anticipate they'll start putting a roof on the east end of the building, and that may create a little extra noise," Melton said.
He said parking "has been a little tight," forcing more people to park on the street.
"It changes some traffic-flow patterns in the building, and there are some exits you don't have access to, so it gets a little more congested in the building," he said.
He said the building project was taking shape nicely.
"The kids are getting excited about it, and I know the staff is getting excited," he said.
Central Junior High
Central Junior High students are already using classrooms finished in August as part of the $4 million project.
"We're into most of those classrooms that we could get into," Central Principal Frank Harwood said.
The major work now is on the new gymnasium and locker rooms on the north side of the school.
Harwood said construction noise wasn't a factor.
"It's pretty much away from all of the classrooms," he said.
The biggest problem? The Central Mustangs are without a home basketball court for this year's girls and boys teams, Harwood said. The space formerly occupied by the old gym was renovated into classrooms.
This year's basketball home games will be played at the city's community centers downtown and in east Lawrence, he said.
Free State High
Concrete block masonry walls are now going up on the southwest side of Free State High School for the $1.3 million industrial technology addition.
"It's going to include a lab area for woods, auto tech and welding," said Joe Snyder, Free State principal.
The addition is expected to be substantially complete by Feb. 1 and fully complete by March 1, he said.
The existing greenhouse used for vocational agriculture classes will be moved from the east side of the building to the west, he said.
Snyder said the construction was on the west side of the school campus, near the auditorium, and not adjacent to any classrooms.
Lawrence High
At LHS, the $3.6 million in projects are more noticeable, especially the work being done at the entrance to the east gymnasium and the renovations to locker rooms that date back to the 1950s.
"We're in the messy stages," said Steve Nilhas, LHS principal.
Demolition is adjacent to the school's north parking lot, which is always full or nearly full during the day.
"We had a parking problem before this started. This made it marginally more difficult," Nilhas said.
He said the construction areas had mainly affected the physical education programs.
So far, footings and foundations have been poured for the new east gym entrance.
The project also includes three new science rooms, with labs.
"As that science lab addition starts to take shape, I'll really get excited about that," he said. "It will be a terrific new facility and will give us state-of-the-art science labs. Every day, as I watch the progress, it reminds me how much this community values education."
Copyright 2018 The Lawrence Journal-World. All rights reserved. This material may not be published, broadcast, rewritten or redistributed. We strive to uphold our values for every story published.