Chat about school construction projects with Tom Bracciano.
April 25, 2007
This chat has already taken place. Read the transcript below.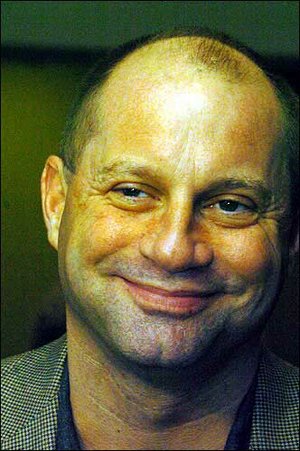 Tom Bracciano, Director of Facilities and Operations for the Lawrence school district will be in the newscenter Wednesday, April 25th at 11:00 a.m. to do a chat about the bond issue construction projects, the new South Junior High, any and everything facilites-related.
Moderator:
I'm 6News Anchor/Reporter Deanna Richards, here today with USD497's facilities and operations director Tom Bracciano. Tom's here to answer your questions about school construction projects. Welcome, Tom.
Tom Bracciano:
Thanks for having me. It's always nice to be in the newsroom. Love what you've done with the place. Is that a new picture?
Moderator:
New picture? Hmmm... Not sure.
OK. This first question has several parts so I'm going to break it down. Here goes the first part, posted by justthefacts: What % of the school district's budget goes to pay for building maintenance or improvements?
Tom Bracciano:
Actually the portion of the budget that goes to pay for building repairs is called capital outlay and is different from the general fund. Capital outlay can only be used for building repairs and is raised through the mill levy. It cannot be used for salaries, supplies, etc.
Long story short - we have about 5 million dollars a year for building repairs and construction. The district's budget is around 75 million I beleive.
Moderator:
OK. Here's the question in its entirety:
What % of the school district's budget goes to pay for building maintenance or improvements? And what % of the budget pays for the salaries of teachers? And what % pays for the salaries of administrators? IN other words, where can we get a copy of the budget - is it available on-line?
Tom Bracciano:
Great - that makes it easier. To obtain a copy of the budget contact Julie Boyle Director of Communications. She will get a copy or direct you to the proper person. She can also tell you if it is available on line.
What is the school district doing to ensure than facilities are accesible to bicyclists/pedestrians?
Tom Bracciano:
All district facilities should beaccessible to pedestrians and bicycles now. We are required by law and have made modifications that make our buidlings handicap accessible. This process should have made them bike and pedestrian friendly.
Deanna reminds me, if you do ride your bike on the sidewalk there may be some traffic laws to review. Seriously though, if you are aware of any issues regarding accessibility for anyone please contact me.
Moderator:
Here's one for you. We did a story right before spring break about several of the bond project wrapping up. What's the status now?
Tom Bracciano:
Well, WJHS is all done except for moving the portables out and minor things. All the new space is usable. SWJHS the same. CJHS ditto. LFSHS - Done. LHS will be done the 13th of July.
The new South Junior High will be ready for school in the fall. It won't be 100% finished but we'll have students and staff in the building. When I say not totally finished I mean that there will be some exterior work to do. The gym floors may have to be allowed a couple weeks before they can be walked on and the new parking lot won't be complete until October 19.
School will be in the new building though. The old building won't be there.
Moderator:
What's going to happen to the old South Junior High? In other words, when does demolition begin?
Tom Bracciano:
Demolition will begin after asbestos removal is complete. The anticipated time to start demolition is mid to late July. Already there are several gatherings being planned to kick off the demolition. Not too many tears being shed for the ole round school.

Moderator:
So, just to be clear, students WILL be in the new South Junior High for the beginning of the school year?
Tom Bracciano:
Yes. We are meeting with city representatives to keep them updated on our construction progress and to deal with any issues that may arise in the construction process. The building is being built in a series of blocks that will be given occupancy by the city as they are completed. We are adressing all life safety issues as we move forward.
By doing the construction in blocks we can be in parts of the school while working on others.
Does the District plan to install fencing as a barrier around each of the schools for protection.
Tom Bracciano:
Many of our schools have fencing along the property lines now to deter people from coming on the property other than through the front of the school property. We have installed fencing in smaller amounts over the past 5 to 6 years in areas where it was a higher priority. Our goal is to have all district property delineated by fence. This is not always popular with the neighbors but is really where we need to be.
What security measures are being taken by the district for each of the school.
Tom Bracciano:
The district has made several modifications to building entrances top improve visibilty and control traffic flow. Keyless entry at all schools will be completed this year. Our camera system is fully networked with our door acess system and is accessible 24/7 remotely.
We've done many other physical modifications and have moved to integrating our security and operating systems in conjunction with the Lawrence Police Department and Fire and Medical.
Is this Bond construction work going as you hoped it would? Is it better or worse than the last bond program.
Tom Bracciano:
This bond issue has been a phenomenal success. I've been with Lawrence Public Schools for 23 years and this is the first time I remember not having to cut away at the final product to make budget. In fact we are about 2.5 million under budget.
All of the projects are first rate, not oppulent, but first rate and will serve our kids well for years to come. The citizens of Lawrence deserve to pat themselves on the back for this bond issue. Well done. Well done.
What is the deal with the labor union picketers? They are picketing at Broken Arrow/SJHS.
Tom Bracciano:
My understanding is that they have a dispute with one of the subcontractors on the project. It is between them and the subcontractor. They have a legal right to be where they are if they don't disrupt the school learning environment
When will all the 2005 Bond projects be complete.
Tom Bracciano:
The last date of completion on the construction calendar is 10/19/07. That is the date of completion for the parking lot at SJHS. The last building completion date is 8/11/07 for SJHS.
Moderator:
That does it for us today. Thanks for joining us, Tom!
Tom Bracciano:
Wow that was quick. Always a pleasure being here. Like the picture there.
tb
loading...
Blog: Looking at what may be next now that voters have rejected new sales tax for jail, mental health improvements

May 21, 2018 · 12 comments

Opinion: Reducing racial profiling depends on all of us

May 22, 2018 · 1 comment

Tom Keegan: KU needs to find the department leader who can find the football leader

May 22, 2018 · 1 comment

Chancellor Girod fires KU Athletic Director Sheahon Zenger, citing lack of progress and necessary change in leadership

May 21, 2018 · 23 comments

Gunman opens fire at high school near Houston, killing 10

May 18, 2018 · 65 comments

KU researchers say 'intolerant' attitudes, not economic anxieties, fueled Trump's 2016 victory

May 17, 2018 · 53 comments

Lawrence fourth-graders start discussion at City Hall about plastic bag ban

May 21, 2018 · 9 comments

Opinion: Christianity without a hint of Jesus

May 20, 2018 · 14 comments

Douglas County voters reject controversial countywide sales tax; leaders say jail project will proceed after public input

May 15, 2018 · 57 comments

Kansas Gov. Colyer signs letter backing Trump for Nobel Peace Prize

May 15, 2018 · 47 comments