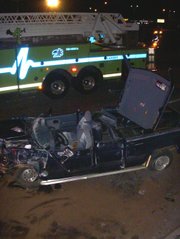 A Kansas University student injured in an early morning crash Sunday is listed in fair condition.
Kalen Siebert, 19, was driving a blue Ford pickup truck southbound on Iowa Street. When he turned westbound onto 23rd Street, his vehicle crossed the median and struck a concrete wall on the south side of the street. Siebert was extricated from the vehicle and airlifted to St. Luke's Hospital in Kansas City, Mo.
Copyright 2018 The Lawrence Journal-World. All rights reserved. This material may not be published, broadcast, rewritten or redistributed. We strive to uphold our values for every story published.