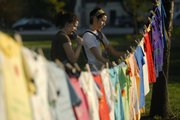 Rape survivor Robin Richards still fears the nighttime.
She warns women that the dark hours are when they are most vulnerable. It was 27 years ago, when she was 22 years old in a park with a boy she liked, when she was lulled into his friend's car and assaulted.
"It didn't ruin my life, but I still don't go out at night," she said.
Her strong will has carried her through life as she shares her message for women to be strong and speak up about domestic and sexual violence.
Her message was the essence of Thursday's Take Back the Night event, an annual international rally and march to promote awareness about domestic violence and sexual assault.
Richards, of Lawrence, spoke to about 70 people at South Park before they marched to Buford M. Watson Jr. Park for a candlelight vigil.
Through the years, Richards had learned that many of her friends have been raped and haven't reported it, she said.
According to the National Coalition Against Domestic Violence, every two-and-a-half minutes someone in the United States is sexually assaulted.
"I don't think men realize the impact it has on women, or on men; it lasts forever," she said.
In recent years, Women's Transitional Care Services and GaDuGi Safe Center, who sponsor the event, have included men in the rally. This year, they wanted it to be even more inclusive for men and families.
"We wanted all genders and sexual orientations, anyone to feel welcome, because sexual assault and domestic violence knows no gender barriers," said Saida Bonifield, a WTCS outreach coordinator. "We also wanted men to participate and have an active role in this year's march."
WTCS, which has a women's shelter in Lawrence, recently began hiring men.
"I think it's very healthy to have a man in this field," said Jesse Jones, a male employee. "It sets an example. A lot of men think women's issues are only women's issues, but women's issues are men's issues as well."
The event included visual displays such as the Clothesline project, which gives voice to victims' messages about sexual and domestic abuse.
Copyright 2018 The Lawrence Journal-World. All rights reserved. This material may not be published, broadcast, rewritten or redistributed. We strive to uphold our values for every story published.