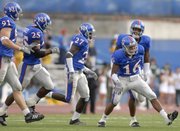 Kansas University cornerback Chris Harris was named Big 12 Defensive Newcomer of the Year by the Associated Press, it was announced Wednesday.
Harris, a true freshman out of Bixby, Okla., has started nine of KU's 12 games, being thrown into the role after a summer injury to projected starter Kendrick Harper.
Despite being a preseason backup, Harris flourished as the starter just months removed from Bixby High.
Also honored Wednesday were Missouri quarterback Chase Daniel (Offensive Player of the Year), Oklahoma linebacker Curtis Lofton (Defensive Player of the Year), and Texas Tech wide receiver Michael Crabtree (Offensive Newcomer of the Year).
Copyright 2018 The Lawrence Journal-World. All rights reserved. This material may not be published, broadcast, rewritten or redistributed. We strive to uphold our values for every story published.