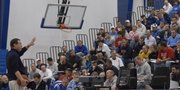 Numbers were up this year for Bill Self's coaching clinic, held Friday and Saturday on the Kansas University campus.
"We had about 350 coaches. That's more than last year. I think our football success helps that, too, all the excitement on campus," Self, Kansas University's fifth-year coach, said.
High school, junior-college and small-college coaches from Kansas and neighboring states received a ticket to KU's football game against Nebraska as part of the clinic.
"We show them some good, hard practices. It's good for coaches and good for us to interact and pick up some ideas," Self said.
KU director of basketball operations Ronnie Chalmers said he regularly attended clinics during his days as a high school coach in Alaska.
"Every chance I could get," Chalmers said. "It's early in the season, and coaches get a chance to come in and see how hard we work our guys. It gives them some ideas to go back and get their guys prepared. Everybody now is trying to run a high/low offense. They get a chance to see it first hand."
Copyright 2018 The Lawrence Journal-World. All rights reserved. This material may not be published, broadcast, rewritten or redistributed. We strive to uphold our values for every story published.