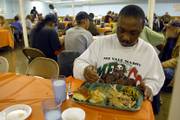 Dianne Morgan's workday starts with a "hey, hey, hey!"
It is 11:30 in the morning, and the coordinator for LINK - one of the city's free soup kitchens - is walking up the cracked concrete steps of First Christian Church, 1000 Ky. Its basement has been the longtime home of Lawrence Interdenominational Nutrition Kitchen.
Morgan is carrying a box of books to be set out for the trash. She's been trying to give them away to LINK clients for the last three months. No luck. The free food has been much more popular than the free reading.
"But they are children's books, and we, after all, are adults," Morgan said of the books that showed up on the kitchen's doorstep.
No sooner had she said those words when some adult language rang out from the crowd, which already began to gather for the 1 p.m. kitchen opening.
"There's no (expletive) loyalty in the game," a long-haired 20-something yelled as he sat perched atop a piece of the church's stairway. "No (expletive) loyalty."
Morgan's stride never breaks, but she immediately raises her voice and says what must be the three magic words: "Hey, hey, hey!"
The cussing stops like a Mercedes with new brakes. Morgan doesn't. She's still on the way to the Dumpster. A short second of silence, and then the long-haired 20-something says, "Sorry, Dianne. Sorry, Dianne."
After the second apology, he sees the back of Morgan's head nod. All is forgiven.
On the second trip up the stairs - yep, more kids' books - there's more cussing. In fact, it is the same expletive.
"You mother (expletive.)"
This time it's another stairway gatherer. But he is yelling it at the long-haired 20-something.
"Whoa, whoa, whoa," Morgan yells.
Again, it stops.
This time Morgan gets two immediate apologies. One from the new cusser - and just for good measure - the long-haired 20-something apologizes again even though he wasn't cussing this time.
Morgan walks back down the stairs. The book-toting is done. The apologies, though, aren't.
A wiry man with puffy eyes and Carhartt overalls staggers down the stairs. He says the same things all the others have said, but this time it sounds different.
"I'm sorry, Dianne. I'm sorry."
It sounds different because the grown man is crying. Morgan takes him away from the ears of a visitor. She hugs him and whispers something in his ear. Then she pats him on his back and sends him back up the stairs.
I don't know the story behind that. But Morgan does. She's Lawrence's lunch lady. Her job requires her to know all the storylines that play out each Tuesday, Thursday, Saturday and Sunday near the corner of 10th and Vermont streets.
She may technically run a kitchen, but she's not really in the food business. Case in point: She's received four apologies in her first 15 minutes on the job. She's yet to have touched a piece of food.
"I'm definitely in the people business," Morgan said.
Moving on
That's the business she is in for a while longer, anyway. After two-and-a-half years on the job, Morgan is stepping aside. She's getting married and wants to be able to spend the weekends with her husband. It also will give her more time to work as an assistant director and bookkeeper for the Lawrence Community Shelter, which is across the street.
LINK leaders understand. Turnover is not a new phenomenon for the LINK coordinator position. But the LINK board is struggling to find a replacement for Morgan.
"We need to find somebody, or else it will be old people like me running it," said Herman Leon, a retired professor at Kansas University's School of Social Welfare and a board member for LINK. "The job requires a potential angel or a real saint. We're finding that tough to find."
The board has conducted some interviews, and it thinks it is getting closer to making a hire, Leon said. But he said Morgan has set the standard for future coordinators.
"Since she has come, I wouldn't say we have had total peace in the valley - that probably never happens - but LINK feels like it is supposed to. It is a respite spot for a tough day," Leon said. "She somehow manages to keep an eye out for everyone. That, we probably won't be able to replace."
Not on the coordinator's salary, anyway. The board pays $8.50 to $10 an hour for the part-time job, which comes with no health benefits.
"It's not going to help you get rich at all," Morgan said with a laugh. "But you'll sleep well at night because you know you've done a good thing."
Cleaning up
The coordinator works with about 50 churches and civic organizations that provide the volunteer labor for cooking the food. The food is prepared at homes, and then it's reheated and assembled at LINK's kitchen.
Morgan doesn't spend much time in the kitchen. Many of the volunteer groups are veterans of the process, and Morgan does have an assistant coordinator who helps in that area.
Instead, Morgan is out in the dining room most of the day. She works the room - row after row of folding tables and chairs - like a politician works a crowd. Except without the "please, please give me your vote" mentality. She shakes hands. Gives hugs. Listens to stories that run the gamut.
"The favorite part of my day is when I go and pick up the trays from the tables," Morgan said. "I like it because it gives me a chance to talk to people. I get to hear what they have to say."
This is what she wanted to do with her life. Morgan says that Sept. 11 sparked her to change her life. She and her former husband sold a pair of successful South Carolina businesses: a screen printing operation and a property management business. She moved to Lawrence to be closer to her father and her brother's family.
But somewhere along the way she's found another family. The folks at LINK are definitely more than just clients or customers. When Morgan and Lawrence resident Don Huggins get married in early December, they'll conduct the ceremony in the LINK dining room.
'Everyone blessed'
Make no mistake, though, the dining room isn't always filled with love.
"I've been called every name in the book," Morgan said of her time at LINK. "But I'm very fine with myself, so none of it ever stuck."
Morgan, with her unimposing frame, has jumped in between grown men who are ready to come to blows. She's called the cops. She's permanently banned people from LINK when they've gotten too far out of control. She's dealt with the mentally ill - the toughest part of her job, she said.
She said there's a simple rule that has guided her through it all.
"I just love everybody," Morgan said. "I figure if you give respect, it comes back to you."
Several of the diners at LINK on this particular Tuesday afternoon said the philosophy has worked.
"She really has the feel for this place," said Eric Horch, a diner at LINK. "It is a mutual respect. She makes sure everyone down here is blessed."
In line
On this particular day, the number was 175. That's about 25 diners more than normal. But it was the end of the month, and larger crowds are common as a month winds down. Too much month at the end of the money, as they say.
Morgan runs the line. Families with children, the disabled, and people who have jobs and must get back to them are allowed to go through the line first.
Everyone else gets served based on what number they received as they walked through the door. It takes about an hour to get everyone served with their choice of chicken and noodles or spaghetti and vegetables.
But like always, the meal is just a part of it. On this day, local health workers were giving free flu shots. Morgan is making a point to ask many of the diners whether they've had their flu shots. Many, despite being precariously housed and exposed to the elements on a regular basis, scoff at the notion of a shot.
Morgan doesn't chide them. You don't gain respect that way. But she does lead by example. She steps forward to get a flu shot, and tells one of the diners to "come on over here and hold me so I don't fall over."
The man is inebriated, and Morgan knows it. He gives her a big hug, but lets go in a hurry when he sees the needle in the nurse's hand.
"I can't stand those needles. I'm gone," he says as the room laughs at him heading for the exit.
The man is a good example of another of Morgan's philosophies.
"Anybody can come in here in any condition they choose," Morgan said. "They just have to be sweet."
The man, though, also is a good example of how situations can change quickly in the dining room.
About an hour later, the man was back. And he wasn't any less inebriated. And he wasn't as funny. He paraded through the dining room, shouting expletives about a woman many of the other diners knew.
Morgan sees a friend head toward the man. The friend escorts him out so Morgan doesn't have to. There'd be no soup for the man today. Morgan watches as he's led out the door.
Another apology for another day.
Copyright 2018 The Lawrence Journal-World. All rights reserved. This material may not be published, broadcast, rewritten or redistributed. We strive to uphold our values for every story published.