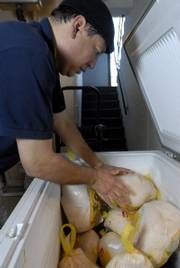 Lawrence Interdenominational Nutrition Kitchen's annual Thanksgiving dinner will include the traditional fare of turkey, pie and all of the fixings, along with a healthy dose of camaraderie.
"Thanksgiving is a day to get together with people," said Dianne Morgan, LINK coordinator. "It's a day where there's no pressure, except to enjoy the day, and I think that's why people feel very comfortable walking through the doors of LINK."
Doors will open at 11:30 a.m. Thursday at 221 W. 10th St., and the meal will be served from 1 p.m. to 2:30 p.m.
"We've got 32 turkeys that will go into the oven on Wednesday night and I think we can feed just about anybody that comes by," Morgan said. "We sincerely invite anyone in Lawrence to come here. It is open to everyone."
She expects the event to be attended by about 250 people, similar to past years.
"Families tend to come," Morgan said. "People from out of town come in to visit their families and come over here for dinner and it's great; we actually have several tables of families on Thanksgiving Day."
Morgan is thankful for the community support that the event receives. She said hundreds of people from Lawrence and surrounding towns make the dinner possible.
She said LINK's three months of planning for the meal pays off.
"Having 250 people in here - happy and full, that's the most exciting part," she said.
Copyright 2018 The Lawrence Journal-World. All rights reserved. This material may not be published, broadcast, rewritten or redistributed. We strive to uphold our values for every story published.