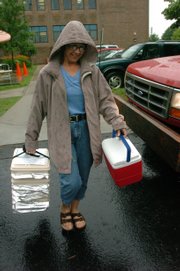 Clients of at least one meal-delivery service will be stocking up to get them through Independence Day.
"We just don't have the staff to cover it with drivers, because too many of us go out of town," said Annie Neri, a program assistant and driver for Lawrence Meals on Wheels.
For several years, the organization delivered meals to elderly people and others with special needs every weekday, except Thanksgiving and Christmas. But now that the group serves up to 130 people, the Meals on Wheels board decided this year not to deliver on major holidays, Neri said.
At Meals on Wheels, the organization buys meals from Lawrence Memorial Hospital, and volunteer drivers typically work one route serving a few clients one day a week.
While it now operates 19 routes to help serve an aging population with doctor-prescribed meals, the organization a few years ago served only about 60 clients. At that time, finding substitute drivers to cover major holidays was much easier, Neri said.
Neri said most clients she has talked to have been understanding. And volunteers have advised clients to stock up with food at the grocery store to carry them through the midweek holiday. Several Meals on Wheels clients purchase the delivered meals, but no one is turned away for inability to pay because the agency is funded by the United Way and grants.
Another agency, Senior Meals of Douglas County Senior Services, will not deliver on the holiday. Clients who receive meals from senior services will get an extra frozen meal the day before, as they do on Fridays or before other holidays, said a representative of Senior Meals from director Kim Wittman's office.
One meal site will be open Wednesday, but it won't deliver.
Volunteers at Lawrence Interdenominational Nutrition Kitchen, 221 W. 10th St., will serve hot dogs and watermelons from 1 p.m. to 2 p.m., said LINK Coordinator Dianne Morgan. Doors will open at 11 a.m.
Copyright 2018 The Lawrence Journal-World. All rights reserved. This material may not be published, broadcast, rewritten or redistributed. We strive to uphold our values for every story published.