Minnie Grimm was humming Thursday morning as she scooped out dough of a chicken-and-cheese concoction from a bowl into a tray.
Barnes was helping bake dog biscuits and working for $6 an hour at the Lawrence Interdenominational Nutrition Kitchen with Michelle Barnes, Vickie Goodwin and LINK coordinator Dianne Morgan.
The Lawrence Community Shelter, 214 W. 10th St., has sold the dog treats mostly on Saturdays at the Farmers Market in downtown Lawrence. The baking, packaging and selling project allows unemployed homeless people and shelter guests a chance to be productive.
"Self-esteem and money, because everybody gets paid by the hour. It's something to do during the day for a couple of hours," Morgan said.
The baking business is offered through the Joseph Project. It is funded by a $10,000 grant from the National Catholic Campaign for Human Development, which encourages small-business startups.
The season's final Farmers Market will be Saturday in the 800 block of New Hampshire, but project workers also have sold the biscuits at Pawsh Wash & Pet Health Market, 1520 Wakarusa Drive, and will soon offer them at Community Mercantile Co-op, 901 Iowa, Morgan said.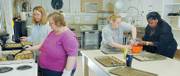 Shelter guests have the opportunity to bake for two hours, then package for two more and sell them at the Farmers Market on Saturdays. They ask for a $1 donation, but people typically pay more, Morgan said.
The project has grossed about $5,000 since April, and that funding helps pay the wages of the project's workers. Morgan said project coordinators are hoping to expand the business.
More ideas are in the works, including providing staff members from the shelter to help assemble parts for a startup business that builds dog waste scooping machines.
"The main goal would be to employ people who otherwise have a hard time getting their foot in the door," Morgan said.
One biscuit cook recently has moved into her own apartment, Morgan said.
Barnes was working with the project for the first time Thursday.
She said she has been staying at the shelter for about two months, but recently was hired through Sedona Staffing at NCS Pearson Government Solutions. She also is looking for a place to live.
"Until I start working, I like to help out because it gives me something to do," Barnes said.
It also was Grimm's first time baking dog biscuits. She said she has stayed at the shelter since September. She has worked in St. Louis as a sales representative, but recent health problems have set her back, Grimm said. She is also looking for an apartment in Lawrence.
She was happy to be up and around Thursday working for some money.
"Yeah, it will keep you rolling," Grimm said.
"Especially for somebody who's not used to working or hasn't done anything in a while. I think it's a good start for them," Barnes said of the project.
Copyright 2018 The Lawrence Journal-World. All rights reserved. This material may not be published, broadcast, rewritten or redistributed. We strive to uphold our values for every story published.