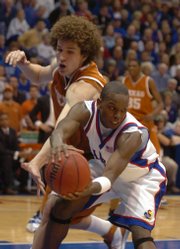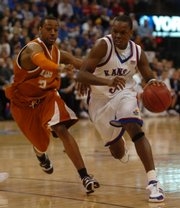 Everyone on the Kansas University basketball team, it seems, has a different opinion of Russell Robinson's best attribute.
But whatever his best skill is, Robinson's teammates are positive the senior point guard doesn't get enough credit for it.
"I think he shoots better than most people give him credit for," fellow senior guard Jeremy Case said.
"Russell is one of the strongest guys out here. I definitely don't think he gets enough credit for that," freshman Tyrel Reed lamented.
"I really think that Russell views his play on one thing, and that is wins and losses," coach Bill Self said. "A lot of people think they have to score, but I think Russell cares about winning."
Though Self sees it as a strength, Robinson's selflessness may be the very reason he is - to his fellow Jayhawks, anyway - so underappreciated.
Robinson, who started 35 of the Jayhawks' 38 games last season, is part of a six-man senior class that also includes key frontcourt contributors Sasha Kaun and Darnell Jackson. His goals this season reasonably could include defending his starting job or winning his third straight Big 12 tournament title, but Robinson says his focus is singular.
"I just want to leave Kansas with a ring," he said, "so they'll look back, and everybody will remember our senior class."
Last season, Robinson was a junior on a team with no seniors. Though experienced in the role of elder statesman, he said his niche this year would be different.
"There's something about seniors that's great for teams," he said. "Everyone has matured."
This season, the majority of backcourt minutes likely will be divided among Robinson, junior Mario Chalmers and sophomore Sherron Collins. Robinson, staying true to his role as a senior mentor, views the crowding as an opportunity rather than a competition. He sees Collins, more than other underclassmen, as his protege.
"Me and Russell, on the court, we understand each other," Collins said. "I'm never afraid to ask him for questions or ask him for help. I think he looks at me a different way because of the way I lead and the way I listen and try to take everything in. I look at him as a big brother."
Beloved by teammates and coaches, Robinson continues to earn their respect with his play. Though he averaged just 7.2 points per game last season, he led the team with 161 assists - no small feat on a team with Chalmers, Collins and passing aficionado Julian Wright on the same court. With Wright gone to the NBA and frontcourt scoring machine Darrell Arthur taking his place, Robinson could eclipse last year's assist total.
The part of Robinson's game that has impressed Reed, however, is his ability to drive to the hoop.
"He's really hard to guard when he has the ball," Reed said. "I just try to watch him and how he gets to the lane."
Drives the lane, racks up assists, earns teammates' respect, wins conference titles. What more could you want from a point guard?
Don't answer - Robinson already knows. For all of the success this year's senior class already has experienced, Robinson says he has had only "a taste."
"They want to go out as being recognized as one of the most winning classes," Self acknowledged.
Copyright 2018 The Lawrence Journal-World. All rights reserved. This material may not be published, broadcast, rewritten or redistributed. We strive to uphold our values for every story published.