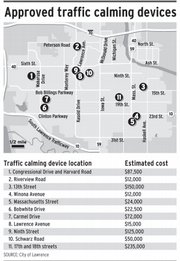 It may be a speed bump for speed bumps.
In the next 30 days, city commissioners should answer what seems like an age-old question about traffic-calming devices such as traffic circles, speed bumps and pedestrian islands: Yeah or nay?
"I still think they're the best solution to slow down traffic if you have the money to do it," David Woosley, the city's traffic engineer, said.
But that's a big "if" these days at City Hall. City commissioners at their meeting last week declined to place on a future to-do list five traffic-calming projects that had been recommended by the city's Traffic Safety Commission. Instead, the City Commission - which includes two new members following the April elections - delayed the decision for 30 days to give commissioners time to discuss the future use of the devices.
"I want to take the temperature on traffic calming," said new City Commissioner Mike Dever, who said he was leaning towards using traffic-calming money to repair sidewalks.
Fellow newcomer Rob Chestnut agreed that there needs to be a meeting of the minds on the subject, saying the city needed to have a "broader discussion" about when and where traffic calming devices would be installed.
If those two come to the conclusion that the devices are more than the city can afford, they won't have a hard time finding a third vote on the commission.
"I'm absolutely ready to take a break for a while," Commissioner Mike Amyx said.
Still needed
A slowdown on traffic-calming devices would be as pleasant as a Sunday drive for some. But there are others who think it would be a step backward for the community to abandon its traffic-calming strategies.
"Just because we don't have any money doesn't mean the need is not there," City Commissioner Boog Highberger said.
The city has 11 traffic-calming projects that have been approved by the previous City Commission but are on a waiting list because the city hasn't found funding for them. The waiting list has grown to about $800,000 worth of projects. Highberger said despite the tight budget, the commission ought to work on creating a four- or five-year plan to tackle the projects.
"We have a responsibility to keep our streets safe," Highberger said. "I think these are important projects."
Split neighborhoods
Highberger thinks the city also should keep accepting requests from neighborhoods that want traffic-calming devices installed to slow traffic.
Woosley said the number of neighborhoods requesting the devices continues to grow. Amy McCarragher, who lives along Trail Road, is seeking to have traffic-calming devices - perhaps speed bumps or something else - installed along the stretch of road from Lawrence Avenue to Kasold Drive.
She said the neighborhood has a large number of children who play in their driveways and ride bicycles. Combine that with a city study that shows the average speed through the area is 37 mph - or seven miles over the speed limit - and it creates a dangerous situation.
"Kids just don't think sometimes," McCarragher said. "Kids sometimes don't look when they cross the road."
McCarragher said the situation on the road is complicated by a lack of sidewalks and street lights.
Woosley said several other neighborhoods also have made recent requests. They include 27th Terrace between Louisiana and Missouri streets; Maine Street between Seventh and Ninth streets; and 18th Street between New Hampshire Street and Barker Avenue.
But the increasing number of requests isn't a sign that all neighborhoods are embracing the devices. Traffic Safety commissioners at their June 4 meeting will consider a request from resident Bruce Boyer to remove a stretch of Bobwhite Drive from the list of approved projects that are waiting to be funded by the city.
Boyer said he's seen enough of the traffic-calming devices around town to know that he doesn't need them in his neighborhood.
"I think, in general, they are a waste of taxpayer money," Boyer said. "There are a lot better ways to spend money."
City commissioners soon will be the judge of that.
Copyright 2018 The Lawrence Journal-World. All rights reserved. This material may not be published, broadcast, rewritten or redistributed. We strive to uphold our values for every story published.