Southern Lawrence residents want to put the brakes on cut-through traffic on one of the few roads connecting Iowa and Louisiana streets.
Landra Fair says 27th Street traffic has grown beyond an inconvenience to her neighbors.
"Many times we've seen tire marks in people's yards," she said. "We do hear a lot of screeching tires and brakes."
Bonnie Johnson, president of the Indian Hills Neighborhood Association, has heard the complaints. And she's doing something about it; she turned the issue into an assignment for her students at Kansas University, where she is an assistant professor of urban planning.
Five of her graduate students have come up with proposals to slow the cars.
"This is a real-life project, so they get a little bit of practice," Johnson said.
The students warmed to the assignment.
"We looked at a raised crosswalk on 27th Street, where Naismith Park comes around," said Enjoli Dixon, who worked on the project.
"And if there's money available, putting in a roundabout on Missouri Street," said Susan Paxson, another graduate student.
The neighborhood voted on the proposals, giving a thumbs-up to the raised crosswalk, as well as speed humps, more lighting and more sidewalks.
Next step: asking City Hall to approve the projects.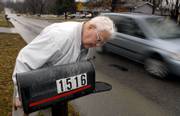 "This is pretty exciting that some of their ideas might actually come to fruition," Johnson said.
But David Woosley, the city traffic safety engineer, said there's a dozen locations across the city on a waiting list to fund similar projects.
"We look at volume of traffic, speed, if there's sidewalks in the area," Woosley said, explaining the priorities for choosing projects. "We also look at reported crashes and if there are other pedestrian generators, like a park or school."
Fair hopes her neighborhood gets help.
"They just go by so quickly," she said of vehicles on 27th Street. "It would just be nice to have people pay a little more attention to pedestrians."
Copyright 2018 The Lawrence Journal-World. All rights reserved. This material may not be published, broadcast, rewritten or redistributed. We strive to uphold our values for every story published.