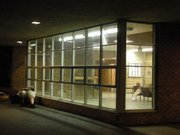 Riding the train can make for a long day in Lawrence. While most of the town settles down for the day, or has yet to rise, Amtrak riders begin their day heading west at 12:32 a.m. or east at 5:42 a.m. State Sen. Marci Francisco met neighbor James Dunn at the Amtrak this morning shortly after midnight, both on their way to the Kansas State Historic Preservation Society Conference in Dodge City. "I thought you might be on this train, in fact, I was even going to call to find out," Francisco and to Dunn. The tickets cost $49 each way, which a AAA discount brings to $83.30 for the round trip
Inside the station, Jade Sanchez, 24, of Albuquerque, New Mexico, drifts in and out of sleep to the sound of train bells in the distance. "It's too normal here, I'm ready to go home," said Sanchez. The No. 3 Southwest Chief train will drop her off in Albuquerque in 15 hours, about the same as the drive.
The 5:42 is late today, due to flooding on the tracks west of Lawrence. Trevor Mohwak, a first semester student at Haskell Indian Nations University, has all but given up hope of getting home to Stockbridge, Wis., today. "It's supposed to arrive (in Chicago) at 3 p.m., and if you hustle, you can catch the 3:15 train to Milwaukee and then the bus to Green Bay and then Stockbridge to get home at 7:15. Gotta pack light so you can move," he said. "This is the first time it has been late for me." A phone line inside the station lets passengers call to find out about train delays and Mohawk leaves to get an update.
Mohawk returns and announces the train will arrive in Lawrence at 8:15 a.m. The long day just got longer.
Copyright 2018 The Lawrence Journal-World. All rights reserved. This material may not be published, broadcast, rewritten or redistributed. We strive to uphold our values for every story published.