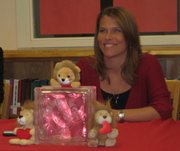 The news conference Wednesday at Lawrence High's library announcing the hiring of Stephanie Magnuson as the school's new volleyball coach seemed more like a reunion of long-lost relatives.
During her introduction speech, Magnuson, a 1996 LHS graduate, thanked former LHS volleyball coach Joan Wells, current softball coach Reenie Stogsdill and current football coach Dirk Wedd.
"It's my family out there," she said.
By accepting the job, Magnuson - who just three months ago gave birth to her first child, Aubrie - also reacquaints herself with her and husband's relatives, who live in Lawrence. The clan includes her parents, siblings and her brother-in-law, Adam Green, an LHS assistant baseball and football coach.
"Family really comes first in this situation, " LHS athletic director Ron Commons said.
She replaces Molly LaMere, who left after four years to accept the head-coaching job at Blue Valley Northwest.
The new coach starred on the Lions' volleyball teams, which won the Class 6A state tournament in 1994 and 1995. After graduating from LHS, Magnuson played volleyball at Southwest Texas State University. She then managed restaurants before coaching volleyball and teaching the last three years at La Quinta (Calif). High near Palm Springs.
"I'm ready to get back to the Midwest where you have kids that were raised differently," she said.
Last year her team won the league title and reached the semifinals of state, garnering her Desert Valley Coach of the Year honors.
She said she would meet the LHS volleyball team for the first time this morning in the orchestra room. Magnuson did not cite specific goals for the squad, which reached state in 2006 despite a 13-26 record.
"Every team is unique, and I try not to set any goals for them until I've talked to them," she said. "I have my own coaching goals, and that's for the kids to enjoy themselves and when the season is over (to) want more."
Magnuson, who would like to see a bolstered year-round traveling club volleyball team in Lawrence, cited hard work during the summer months as another demand.
"That's something I'm going to expect out of them," she said.
Magnuson also will teach math and joked that will give her the upper hand in compiling accurate statistics. Wednesday the new coach expressed her desire to coach her alma mater.
"I'm so excited," she said. "I cannot wait. Let's get started."
Copyright 2018 The Lawrence Journal-World. All rights reserved. This material may not be published, broadcast, rewritten or redistributed. We strive to uphold our values for every story published.