Photo Gallery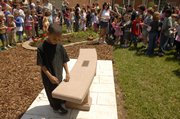 Bench dedication
Friendship was the theme during a bench dedication Wednesday afternoon at New York School.
The bench memorialized DaVonte Brockman and Nolan Vender, two students who died last September in an East Lawrence house fire.
"I think we have a nice memorial here in which we can remember these kids for many years to come," said Nancy DeGarmo, New York principal.
Jack Landgrebe, of the Kansas State University Douglas County Extension Master Gardeners volunteers, said students at the school collected money and the master gardener volunteers matched the money to pay for the bench. Penny's Concrete donated the cement and labor to install it.
"It wasn't hard to encourage the students (to raise the money), because they have been involved in the planning since the beginning," said Donna Black, of the master gardeners program.
Landgrebe said DaVonte and Nolan were a part of an after-school program put on by the master gardeners to teach children about horticulture.
The children's grandmother, Learlean Glover, was on hand for the dedication, and said she was grateful to all those who helped.
"I am truly thankful to the master gardeners and the friends of the kids," Glover said. "They have been great to me."
Glover was injured in the fire, which swept through her home at 1205 N.J. on Sept. 17 and killed DaVonte, Nolan and two of her other grandchildren. Glover's husband, Charles, also perished in the blaze.
A second bench will be placed at New York School, where DaVonte was a sixth-grader, and one will be installed at Central Junior High, where Nolan was a seventh-grader.
Copyright 2018 The Lawrence Journal-World. All rights reserved. This material may not be published, broadcast, rewritten or redistributed. We strive to uphold our values for every story published.