For almost two years, Lois Ann Brockman has been in a rehabilitation center, away from her three children and father back home in Lawrence.
A house fire brought her back.
"I feel so empty," Brockman said outside Warren-McElwain Mortuary on Wednesday. "I don't have my kids. It's the worst feeling in the world."
Brockman, 35, sat outside the funeral home with family and friends, still struggling with the news of the death of her father, Charles Glover Sr., 66, and her three kids, DaVonte Brockman, 11, Mario Johnson, 2, and Mariyana Johnson, 13 months.
Nolan Vender, 13, also died in the fire. He was the grandchild of Learlean Glover, who survived and is now out of the hospital.
Brockman was home Wednesday. But during the fire Sunday, she was miles away, still struggling to recover from a series of physical and psychological problems at the Meadowbrook Rehabilitation Center in Gardner.
Four years ago, Brockman was shot in the head by a man who feared she would testify against him in a federal cocaine-dealing case.
The daughter of Glover and his second wife, Angelina, Brockman was in the hospital for only a week after the shooting but suffered recurring problems from the wound, she said.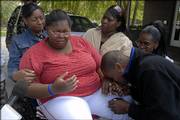 "I still have bullets in my head," she said.
She went home after the incident, but shortly after the birth of Mariyana in 2005, complications sent her into a diabetic coma. She was then sent to the rehabilitation center.
Since then, Charles Glover Jr., her brother, didn't know what had happened to his half-sister. He said he thought she was dead.
But after the fire Sunday, he learned she was in the center. After fire crews pulled the last body from the collapsed home Monday morning, Glover Jr. and his sister, Cynthia Glover, drove to Gardner to break the bad news to Brockman.
"We thought she should hear it from family," he said.
For a whole day, officials at the rehabilitation center banned television, telling residents that the cable was broken. They didn't want a news channel telling Brockman that her children were dead.
In the center Monday, Glover Jr. and Cynthia Glover took Brockman from her room and sat her down.
Glover Jr. said she hadn't seen them in some time and she knew something was wrong.
Family services
A funeral service for Charles Glover Sr., 66, and the four children killed in Sunday's house fire - Nolan Vender, 13; DaVonte Brockman, 11; Mario Johnson, 2; and Mariyana Johnson, 13 months - will be at 1:30 p.m. Sunday at the Kansas Union Ballroom on Kansas University's campus. The services will be open to the public. Private graveside services will be at Oak Hill Cemetery.
Her first question was, "What happened to my daddy?"
Glover Jr. asked her what she thought had happened, trying to lighten the blow, to have Brockman understand.
"He's dead, isn't he?" Brockman asked.
The two nodded. They told her about her children.
Brockman jumped up, pounding pillows and walls. She screamed and kicked at the air.
"It's overwhelming for her," Glover Jr. said. "We wanted to make sure she was OK."After a time, they said, Brockman settled down. They smoked cigarettes and ate pizza. They arranged for her to come back to Lawrence for one final goodbye.
"She's concerned like a mother should be concerned," he said.
On Wednesday, she saw her children for the first time since the fire. Their faces were mostly unmarred by the fire and as she remembered them.
She, like the rest of her family, began to grieve. And grief can sometimes tear families apart.
Outside the funeral home Wednesday, family members of Charles Glover Sr. gathered to mourn as morticians prepared cremation for four of his grandchildren.
Fire at 1205 N.J.
Fatal fire at 1205 N.J.
The family struggled for hours over whether to cremate the children. Those who had legal custody of the children wanted to proceed with the cremation, but Brockman, some other family members and friends said they couldn't stand to see that done.
"They burned my children once," Brockman said. "Don't let them do it again."
Brockman hasn't had custody of the children since she's been in the rehabilitation center.
The city donated five plots to bury Glover Sr. and his four grandchildren, and between friends and state assistance, the money to pay for the burials already has been collected, Glover Jr. said.
Larry McElwain from the funeral home confirmed that money to pay for the funerals had been arranged.
"Money is not the matter," McElwain said. "No matter what, (the state) would pay."
Eventually, the family members agreed among themselves to give Brockman's three children a full burial without cremation. And with that, the earlier tension fizzled.
It's still not clear if she will be able to leave the rehabilitation center again to attend the funeral.
"I hope they don't stop me from doing that," she said. "I want to kiss my daddy."
Copyright 2018 The Lawrence Journal-World. All rights reserved. This material may not be published, broadcast, rewritten or redistributed. We strive to uphold our values for every story published.