Clutching tissues and one another, family and friends of Charles Glover Sr. and four of his grandchildren Sunday said their reluctant goodbyes.
"Words are inadequate at a time like this," said Randy Weseman, superintendent of Lawrence public schools. "They remain in our hearts. They remain in our memories."
Weseman was one of several community and religious leaders to express grief, sorrow and hope for the future during Sunday's memorial service at the Kansas Union Ballroom.
Glover Sr. died Sept. 17 in a house fire in East Lawrence along with grandchildren Nolan Vender, 13; DaVonte Brockman, 11; Mario Johnson, 2; and Mariyana Johnson, 13 months. The cause of the fire remains unknown.
The sole survivor of the fire, Glover's wife, Learlean, attended the service. She had been hospitalized after the fire.
The ballroom, which Kansas University Chancellor Robert Hemenway reserved for the service, quickly filled with friends and family from all over the country. The crowd of hundreds filled every seat and stood in rows three and four deep along the ballroom walls.
On the ballroom stage, a choir sang opening hymnals and continued with songs throughout the service. The five caskets - three full-size and two smaller - rested between the stage and family members who sat in the front row. The caskets were adorned with roses, photos and DeVonte's football.
Photo Gallery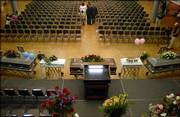 Glover services
Those who spoke at the service balanced saying goodbye to five members of the longtime Lawrence family with clinging to faith and hope to move forward.
"We came here to mourn the loss of Charles Glover, but also to recognize the coming home of him and his grandchildren into the hands of God," Hemenway said, opening the services.
Hemenway served as master of ceremonies at the request of the family, he said.
Glover was a groundskeeper at KU for more than 25 years, keeping tabs of the gardens and yard of Hemenway's campus home for a decade.
"Charles Glover was a friend of mine," Hemenway said. "We talked about family, the grandkids."
Photo Gallery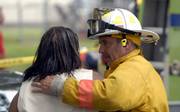 Fire at 1205 N.J.
Elaine Winn, wife of the Rev. Paul Winn of Praise Temple Church of God in Christ, read statements from those who couldn't attend the service. Gov. Kathleen Sebelius sent her sympathies, telling the family members they were in her thoughts Sunday.
During the service, state Rep. Barbara Ballard told the family she'd be overwhelmed, her heart broken, if she ever experienced such a loss in her family.
"I don't think anyone can ever know how you feel," she said.
From the crowd, Lois Ann Brockman, the mother of three of the children, yelled, "Yes, ma'am."
But Ballard said those feelings of despair, so strong now, won't last forever.
"Let go of all that pain, that heartbreak," she said.
She chanted to the crowd, "Let go. Let God." The crowd chanted back.
After the services, family and friends were invited to say their final goodbyes to Glover Sr. and the children. One at a time, people began to cluster around Glover Sr.'s open casket, placing hands on his head, crying softly.
Brockman, who had said she only wanted to kiss her daddy goodbye, leaned down to her father and children one at a time.
Weak with emotion, she leaned on her father's casket while family and friends held her up.
Fire at 1205 N.J.
Fatal fire at 1205 N.J.
Copyright 2018 The Lawrence Journal-World. All rights reserved. This material may not be published, broadcast, rewritten or redistributed. We strive to uphold our values for every story published.