Standing at the edge of the rain-soaked rubble that was once her home, Learlean Glover found things she didn't want to see:
A pair of baby shoes. The remains of her grandson Nolan Vender's child-size truck. A Dr. Seuss book.
"No, no, we don't want to look at that," Glover said, shirking at the baby shoes. "It's too much."
The fire at 1205 N.J. killed her husband, Charles Glover Sr., and their four grandchildren on Sept. 17. Learlean Glover spent Wednesday hunting for anything she thought she or her family might be able to use.
Old shirts could become hand-me-downs. Old, wet paperwork might still be salvageable.
She needs something, Glover said, to occupy her time. Since the fire, she's spent days trying to work as much as she can, picking through the home's remains or spending time with family. But when the sun disappears, every hour is a struggle, she said.
"At night, everyone would be around the house," Glover said, recalling her life before the blaze and holding an old, muddy book. "I'd be giving them baths, putting them to bed.
"That's when the tears flow."
Drudging through her and the children's belongings, the memories of that night race back, she said.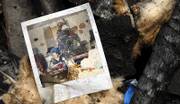 It was a quiet Saturday night. Glover had already laid out the next morning's church clothes. That's what she expected to open her eyes to, she said.
Instead, blinding smoke woke her. She didn't feel anything then, she said, except maybe panic.
She tried to get Charles Sr. out of bed, out of the house, she said, but he was tangled in his sheet.
"The smoke just overwhelmed him," she said.
It doesn't help that fire investigators haven't found a sure cause of the fire, concluding only that it started on the front porch and might have been an electrical fire or perhaps had a human cause.
"It's killing me," she said. "We don't know what started the fire."
Despite rumors that a propane grill started the fire on the porch, investigators say they still haven't pinpointed the cause.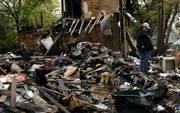 Fire Marshal Rich Barr said it's true there were cooking appliances found outside the Glover home used for smoking and grilling meats. But they were at the rear of the home, he said, not on the front porch where the fire is believed to have started.
"We did not find this (purported front porch) propane grill, and the fire was not hot enough to totally consume it," Barr said. "We did, at the early stages, have people saying they believed that grilling occurred on the front porch but couldn't determine if it happened that day."
Barr said finding a fire's cause is a process of elimination, and that the investigation ruled out everything except an electrical problem or a human cause.
"We know that there was wiring on the porch that was energized," he said. "We don't believe there were any accelerants utilized on the porch because the dogs did not identify any, and we took samples as well. Those came back negative."
Barr said natural causes - such as lightning, high wind or spontaneous combustion from something like a pile of mulch - had been ruled out, as well as an "open-flame device" such as a cooking appliance.
"Because we have not narrowed it down to one possible ignition source, you really have to leave it open because there are still two possible scenarios," he said. "Because we couldn't eliminate everything, then speculation is going to occur."
Barr said it's not too late for anyone with information about the fire to come forward.
Fire at 1205 N.J.
Fatal fire at 1205 N.J.
"The case is open. We never shut the case," he said.
Glover's son, Charles Glover Jr., said he didn't know more than the public about how the fire began, but that he's checking every day with Lawrence-Douglas County Fire & Medical to see if the status of the case has changed.
"I have the information everyone else has," he said.
Meanwhile, Learlean Glover searches for answers, for peace. At nights, she said, she sits and questions what happened, what she could have done.
"What did we do wrong? Where did we go wrong?" she asked, looking out on her former home.
If she would have done something differently, if she could have got Charles Sr. unwrapped from the sheets, would it have mattered? Would someone else still be alive?
"That plagues me," Glover said.
But God, she said, left her here for a reason.
So although she said she feels "like an empty can," she still digs.
"There's memories here," she said. "If it's going to go, let me help it go. That's why I'm out here."
Benefit concert
An 18-and-over benefit concert for the Glover family has been scheduled for 9 p.m. Friday at Fatso's Public House & Stage, 1016 Mass. Performers include The Brody Buster Band, Billy the Squirrel, Tanner Walle, Sarah Blacker and The Nacho Brothers. "Charlie Glover Jr. is a good friend of Lawrence's music scene, working in various capacities in music for many years," Gavin Smith of Fatso's said in a statement. "We feel that the music community and community at large will come together to provide some financial assistance through donations for whatever the family needs." Anyone interested in making a donation without attending the event may call Fatso's at 865-4055 to donate via credit or check card.
Copyright 2018 The Lawrence Journal-World. All rights reserved. This material may not be published, broadcast, rewritten or redistributed. We strive to uphold our values for every story published.