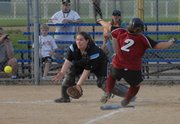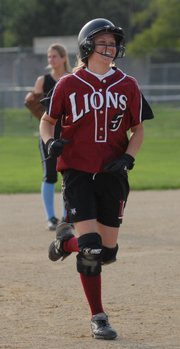 The Lawrence High softball team swept a doubleheader for the first time this season, but Lions coach Reenie Stogsdill watched much of her squad's Game One victory against Shawnee Mission East from the dugout at Holcom Park.
During that 6-1 win Thursday, a third-inning disagreement between Stogsdill and the home- plate umpire began over a foul ball. The LHS coach wanted him to confer with another umpire, but he refused to do so, issuing a warning instead.
After the game Stogsdill said she did not understand why the man in blue and gray threw her out.
"I have no idea," she said. "All I did was ask him a question, and it was bye-bye for me."
As assistant Charlie Lauts replaced Stogsdill on the third-base line, the yank job may have provided extra motivation for the Lions.
"That was just more incentive for us to win it," senior Sam Hays said. "We're like, 'let's just to do it for Stogs.'"
LHS would tie the game during that same inning on a Caitlin Bowlin double, which plated Lauren Kelly.
The home team, though, broke the game open against the winless Lancers during the sixth inning. With a 2-1 lead, Katie Grom singled and stole second. Kalli McClure doubled to drive Grom home. Brittaney Krug walked. Then Hannah Somers golfed a low pitch over the center field fences for her fourth home run of the year.
Stogsdill called it from her dugout seat, telling her team Somers would hit the three-run shot.
"Keep your eyes on the field because it's going out," she said. "I have so much confidence in her. ... When we have runners on, who do I want at the plate? I want Hannah Somers up there."
Asked if Thrusday's game represented the first time an umpire threw her out, Stogsdill laughed.
"I've coached for a long, long time, and it's only happened twice," she said. "And I was right both times."
She reclaimed her duties for the bottom half of the doubleheader, which LHS won, 10-4.
Syndey Seratte earned complete-game victories during both games. She allowed six hits in the first game and 12 in the second game, demonstrating impressive stamina.
"We expect her to be able to do that," Stogsdill said.
During Game Two, Seratte received strong support from her offense. The Lions totaled 14 hits, led by Hays, who went 4-4 for the first time this season.
"It always seems to happen to me in the second game," Hays said. "The first game I just get dinky little hits."
In addition to Hays' hot hitting, Somers went 2-4, and Kacie Welbourn went 2-3 during Game Two.
"Once one person gets a hit, it gets the team going," Somers said. "We just get in our groove."
As a result the Lions (4-16) have ended the regular season with a three-game win streak. Their opponent during the 6A regionals will be determined Saturday.
"It doesn't really matter what you do all season if you peak at the end of the season when it really counts," Stogsdill said. "Hopefully that's where we're headed."
Copyright 2018 The Lawrence Journal-World. All rights reserved. This material may not be published, broadcast, rewritten or redistributed. We strive to uphold our values for every story published.