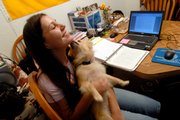 Haskell graduation schedule
Haskell Indian Nations University's spring commencement will be at 10 a.m. today at Haskell Memorial Stadium. In case of rain, the ceremony will be moved to the Coffin Sports Complex.
Haskell also has scheduled these graduation activities:
Today
¢ Alumni registration, 8 a.m.-5 p.m., Stidham Union.
¢ Alumni breakfast, 7 a.m., $5 per person and no reservations required, Rose Room, Curtis Hall.
¢ Commencement luncheon for graduates and families, noon, Curtis Hall.
¢ Film screening of "Trudell" by actor and American Indian advocate John Trudell, followed by question-and-answer session, 2 p.m., Haskell Auditorium.
¢ Haskell alumni football game, 4 p.m., Adobe Flats Football Field.
¢ Commencement Pow Wow, $1 per person, 7 p.m., Pow Wow grounds. Trudell will attend. The new Miss Haskell will be crowned at 8 p.m.
Saturday
¢ Graduation Weekend 5K and 12-mile fun run/walk, free, 7:30 a.m., rail trail east of Coffin Sports Complex.
¢ 13th annual Haskell Commencement Indian Fast Pitch Softball Tournament, starts at 9 a.m., Clinton Lake Sports Complex.
¢ Commencement Pow Wow, 1 p.m. and 7 p.m., $2 per person, Pow Wow Grounds.
Sunday
¢ 13th annual Haskell Commencement Indian Fast Pitch Softball Tournament, starts at 9 a.m., Clinton Lake Sports Complex.
She's been exceptional in the classroom and on the softball field.
It's no wonder Haskell Indian Nations University named Katie Renwick as its Student of the Year and a speaker at today's commencement ceremony.
Renwick, 24 and a member of Choctaw Nation of Oklahoma, will graduate with a 4.0 grade point average and a Bachelor of Science degree in environmental science.
"In her field, that is quite an accomplishment," said Manny King, Haskell registrar.
In order to maintain her grades, she took 12 credit hours over six years and put her classroom work before everything else, including softball. She was the pitcher during her first four years at Haskell and named to the First Team All-Conference during one of them.
"Being the kind of student I am, I don't want to miss class. So, there were many times that I drove myself to games. So, I would attend class and then hurried up to make it to the game," she said. "And I would be studying with my little flashlight on the van if we went on a road trip."
Softball coach Gary Tanner said Renwick was his all-time favorite player because she was smart, a great athlete and fierce competitor.
"She was a big power hitter," he said. "She could take it to the fence with just any swing. She was real productive at the plate. I always had confidence that when she got up to bat, something good was going to happen."
Love of winning, pets
Her determination and drive started at a young age. Her mother, Dot Renwick, said, "She always had to be first in her class."
She said when her daughter was in the first grade, she talked the fastest boy in class - who happened to have a crush on Katie - into letting her win.
"She came in first," her mom said with laughter.
Renwick, who was raised on a farm in Orvoville, Calif., has two older brothers and a younger sister, Christy Renwick, who also attends Haskell. Her parents also have foster children.
"At one time, we had a total of 13 kids living in the house, so it was crazy - never a dull moment," Katie Renwick said.
The family also had lots of animals: pigs, horses, rabbits, chickens, geese, cats and dogs.
That's where Katie Renwick fell in love with animals, especially dogs. She has three Pomeranians - named Ezell, Red and Felicia.
For a class assignment, she wrote a paper on the genetics of dog populations.
"It was a real joy to read it because it was real good science and good coverage of the field," said Chuck Haines, professor of biology at Haskell.
Katie Renwick hoped two final projects received the same reviews. They center on the South Lawrence Trafficway's effect on the Baker Wetlands. She attended Wetland Preservation Organization meetings as part of the projects and will be doing research this summer on the wetlands.
She is a strong opponent of any South Lawrence Trafficway route.
"It is a horrible thing," she said. "That land out there is culturally and spiritually connected to Haskell, and I think it is horrible that they are trying to do that. For one, there are a lot of animals out there and, for two, there are old burial sites and they don't know where they are at, so when they start digging up the road, they may dig up some bones. They don't think about that.
"And just to get there five minutes quicker? It just doesn't make sense to me."
Helping others
Not only is she passionate about animals and school work, she also strives to help others.
She was a tutor in the math department for three years and helped Robert Rodgers, of Arlington, Texas, achieve a 4.0 GPA. He will graduate today with an associate's degree in liberal arts.
Rodgers said he had several tutors before settling with Renwick who helped him about three hours a week with subjects such as college algebra and trigonometry.
"She's very knowledgeable," he said. "She has a way of explaining things and she's got a good background. She's not arrogant like a lot of tutors are. And if she doesn't know something, she says, 'I will go find out.'"
Renwick's enthusiasm for school also has rubbed off on her longtime boyfriend, Catcuce Tiger, of Nashville, Tenn., who has better grades in college than in high school.
"She's made me a better student," he said. "She's a good person. And whatever she does and wherever she goes, good things are going to happen because she tends to do the right thing and try hard."
What's ahead
Renwick is unsure about what career she would like to pursue but is interested in environmental conservation. She will be a nondegree-seeking graduate student this fall at Kansas University, where she will continue her work in the herpetology lab.
"My dream job would be to own an animal sanctuary or refuge for all different kinds of animals and be able to run it and take care of them so they could be safe from humans," she said.
According to those who know Renwick, she will have no problem achieving her goals.
"She can do anything that she wants to do," Haines said. "This is a student who has that capability."
Copyright 2017 The Lawrence Journal-World. All rights reserved. This material may not be published, broadcast, rewritten or redistributed. We strive to uphold our values for every story published.