Photo Gallery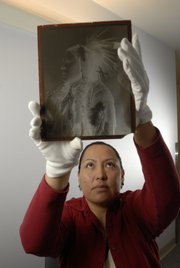 Haskell Cultural Center
Passers-by may see the Haskell Cultural Center and Museum as simply a lone wooden building on campus, but to Lori Tapahonso it represents the "the gateway to Haskell."
"One of the blessings of having a cultural center is our alumni have a place where they can come back to and reminisce in a way that helps strengthen our students," says Tapahonso, public information officer at Haskell Indian Nations University.
"They see the pride that the alumni from generations past have in this institution."
Opened in 2002, the center is dedicated to the first class of Haskell students from 1884, and to all those who followed.
The center houses an array of ethnographic artifacts - such as headdresses, artwork, sculptures, photographs and films - in addition to memorabilia and non-federal documents from Haskell's history. It is mandatory that all the material has a specific connection to the university.
"If there are interesting items that come to us and we can find some way to link them back to Haskell's history, then we'll take it," says Tapahonso, who is a graduate of both Haskell and Kansas University.
She views the goal of the center as being able to share Haskell's legacy.
"Haskell's history really mirrors the history and legacy of Indian people in America," Tapahonso says. "You look through our current exhibit, which is 'Honoring Our Children Through Seasons of Sacrifice, Survival, Change and Celebration' - that's really what we've gone through in this country as Indian people."
RINEHART PLATES
"Frank Rinehart was a photographer commissioned by the Trans-Mississippi and International Exposition in Omaha in 1898 to take photographs of a living exhibit. It was based on the fact the Indians were a dying culture. They invited delegates from all the tribes to come together, and there were 500 delegates who came out to Omaha and set up camp for a week," Tapahonso says.
Haskell houses 809 glass plate negatives from the Rinehart collection in a temperature-controlled storage facility at the Cultural Center. A smaller collection resides at the Smithsonian Natural Museum of American History in Washington, D.C.
This particular picture is titled "Band of Assiniboine, 1898."
GARDEN OF HEALING
Wrapped in a semi-circle around the front of the building rests the Garden of Healing.
"It contains between 18 to 20 different kinds of plants. These plants were native to the region, but also were known to have been used by tribes that were originally in this area," Tapahonso says.
People are encouraged to pick the plants for whatever medicinal purposes needed.
"If you look at homeopathic literature today, a lot of the plants that we have in our garden have been incorporated into other uses," she says, citing examples such as the vivid blue vervain (also called blue verbena) that was used as a sedative and to cure jaundice and inflammation. (See photo on page 1D.)
MEMORY BOOKS
"We have a lot of family members who are going through their relatives' belongings after they pass who've kept memorabilia. They're willing to bring it back and donate it to us," she says.
Among the items collected are memory books, which Haskell provided to students (the one in this photo dates from the 1930s). Filled by their owners with snapshots and writings, the items reveal personal insight into bygone eras.
WAR MOTHERS STATUE
Although its large counterpart that sits outside the Cultural Center was vandalized earlier this year, the original War Mothers statue dwells within the building.
"Barry Coffin, who was the son of Tony Coffin, our former A.D., created a beautiful statue in honor of all the mothers of sons and daughters who served, fought and died in any war," Tapahonso says. "She has on her shawl four medallions with eagle feathers that represent the four branches of the military."
Copyright 2018 The Lawrence Journal-World. All rights reserved. This material may not be published, broadcast, rewritten or redistributed. We strive to uphold our values for every story published.