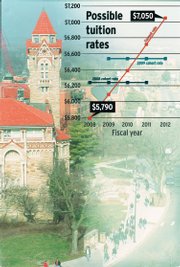 The numbers aren't final, and Kansas University's central administration says it's too early to talk about the details.
But KU's outgoing student-body president said he anticipates the school asking for a double-digit tuition increase later this month - from roughly 10 percent to 15 percent - that would apply to incoming freshmen. The good news, Jason Boots said, is that number is based on a much-touted "guaranteed tuition" concept that would keep tuition the same for all four years of an undergraduate student's time at KU, starting with next fall's freshman class.
"There will be a stair step there, just as part of the program. ... I think for a lot of people, if they're just trying to compare apples to apples, there will be in a sense almost a sticker shock, if you will," Boots said.
KU and the state's other public universities will take their tuition proposals before the Kansas Board of Regents next week at a meeting in Topeka. KU spokesman Todd Cohen said that the regents had told them not to talk about their plan in advance of the meeting.
"Under regents' directive, we're not supposed to say anything until the regents see it first," Cohen said. "It has to go to the regents, and they'll vote in June" on whether to approve it.
Of the financial numbers under discussion, Cohen said, "it could change tomorrow."
Boots said he thought the guaranteed-tuition plan - originally requested by student leaders - was "very exciting," despite what he characterized as a necessary jump in tuition for incoming students to make it happen.
"The end result is very, very predictable for students," he said.
The basic idea of guaranteed tuition is that each class of incoming freshmen will be grouped into four-year "cohorts" that pay the same rate for all four years, assuming they stay in school continuously. The fixed tuition rate is roughly the average of where tuition is at the time the students start and where leaders predict it will be after four years, based on inflation.
A presentation KU gave to the regents last year about the plan included a scenario for the fall 2007 freshman class starting with a "guaranteed" tuition rate of $6,240 per year for a full-time, resident undergraduate. That's a 13 percent increase from this year's $5,512 tuition rate, but it wouldn't go any higher for those students.
"The idea is that realistically, what they're paying in 2007 and 2010 is really the midpoint between what would be inflationary increases in tuition over those four years," Boots said.
Students in five-year degree programs likely would pay the guaranteed rate for the class that entered KU one year after they did, and students in six-year programs likely would pay the guaranteed rate for the class that entered two years after they did.
Resident tuition and fees at KU have more than doubled in the past five years. The revenue was used for such things as new faculty and technology improvements on campus, and 20 percent went to need-based financial aid.
For existing students, Boots said he expected KU to request a tuition increase tied to inflationary rates. He said that might be about 3 percent, but the presentation KU gave to the regents last fall put the expected inflation rate at about 5 percent per year.
So far, KU is the only one of the state's regents' universities to look into the "guaranteed tuition" concept.
Regent Donna Shank, of Liberal, said she hasn't yet seen what KU's proposal will be.
As a mother of three KU graduates, she said it would have been nice to have had predictability about tuition while her kids were in school. But she said she hoped a move to the "guaranteed tuition" plan wouldn't involve a double-digit increase up front, given the recent years of double-digit increases.
"I'd just have to see what their justification is," she said.
Copyright 2018 The Lawrence Journal-World. All rights reserved. This material may not be published, broadcast, rewritten or redistributed. We strive to uphold our values for every story published.