San Jose, Calif. — This week's announcement that popular assistant coach Tim Jankovich is headed to Illinois State hasn't proven to be a distraction to the Jayhawks, freshman Darrell Arthur maintains.
"He will be with us through the tournament. We are all happy for him. We all congratulated him," Arthur said. "I know we all wish him the best."
Freshman Sherron Collins said it was a no-brainer for Jankovich to leave KU for the Normal, Ill., school.
"To leave for a head coaching job ... it's an opportunity for him. I'm sad for myself, but he'll coach one of my best friends, so that's great, too," Collins said.
Collins, who played at Chicago's Crane Tech High, was referring to Osiris Eldridge, a 6-foot-3 freshman from Chicago's Phillips Academy.
Sad that coach 'Jank' is leaving, the Jayhawks are pleased director of student-athlete development Danny Manning will come on board as a full-time assistant.
"He has a lot of knowledge after being in the league (NBA) 10, 15 years," Arthur said of 15-year NBA veteran Manning. "He's helped me a lot. He's shown me how to really seal down on the post."
At 40, Manning still can play the game.
"He's how old? No way," Arthur said. "He doesn't seem like it. He can play the angles, his passes are quick."
-->
"Danny Manning is like a big brother, father, uncle," Collins said. "He tells you what is right and wrong. I have learned so much from him."
Manning and Jankovich were popular interview targets of the massive media throng in San Jose.
Has it always been a dream of Manning's to be a full aide?
"Sometimes it has been. Sometimes it hasn't, depending on my mind-set at the time and what my family had going on," said Manning, who has been on Self's staff the last four years but couldn't hit the road recruiting.
Photo Gallery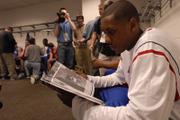 KU prepares for SIU
"Eventually I wanted to get to this point. I look forward to the challenge of coaching and attracting student-athletes to Kansas."
Jankovich said he owes much to Self, his boss of four years.
"Coach has been amazing to myself and my family. He's one of the most incredible people I know. He has one of the best hearts of anyone I've ever known," Jankovich said. "Everyone knows he's a great basketball coach, but do not know what a giver he is. I owe him so much and thank him for our friendship and how he's handled this entire situation with what we're going through now. He's been gracious to allow this to happen. More than that, I'm so thankful to have been able be his friend so many years and work and learn from him."
Copyright 2018 The Lawrence Journal-World. All rights reserved. This material may not be published, broadcast, rewritten or redistributed. We strive to uphold our values for every story published.