San Jose, Calif. — Jeremy Case set up 23 feet away from the basket and fired a wide-open three-pointer at the HP Pavilion on Wednesday.
He bricked it. Badly.
Unfazed, the Kansas University junior turned to press row and saw KU radio broadcaster Chris Piper about five feet away from him.
"I was fouled," Case deadpanned.
"I know you were," Piper replied.
It's further proof that the KU basketball players are staying loose this week, even as attention and expectations continue to build the deeper they advance in the NCAA Tournament.
The Jayhawks spent 30 minutes on the floor during an open practice Wednesday, mainly working on shooting drills with a few hundred fans looking on. It was the last public look at Kansas before it faces Southern Illinois at 6:10 p.m. today in a West Regional semifinal.
-->
Like last week's open practice in Chicago before the pasting of Niagara in the first round, the Jayhawks were pretty much all business Wednesday. Besides some horseplay dunks by Mario Chalmers and Brady Morningstar between drills, there wasn't much showing off for fans.
But the spectators had fun anyway, it seemed. A group of kids in the second row was counting out loud how many shots went through the basket in a row during shooting drills on one end (the most was eight), and several were delighted when Brandon Rush and Sherron Collins, among others, stopped and signed autographs before going to the locker room.
Photo Gallery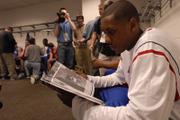 KU prepares for SIU
But the focus of Kansas was evident at the end. The NCAA allows 50-minute sessions at the HP Pavilion for each team. Southern Illinois, for example, used every minute doing a variety of drills.
Not Kansas. With 19 minutes left on the clock, the Jayhawks gathered at center court, put their hands together over their head and stated their goal in unison - the same goal they've chanted all month long before practice is dismissed.
"National champs."
Copyright 2018 The Lawrence Journal-World. All rights reserved. This material may not be published, broadcast, rewritten or redistributed. We strive to uphold our values for every story published.