Southern Illinois University's basketball team recognizes it will need a complete effort Thursday if it wants to get past Kansas University in the NCAA Tournament regional semifinals.
But that might be hard, considering the Salukis may be stepping onto the court without a complete team.
SIU junior Matt Shaw missed Sunday's game with a high-ankle sprain that coach Chris Lowery classified as "a bad one." His status for Thursday's game in San Jose, Calif., is uncertain.
"Right now he's banged up," Lowery said Monday. "It was a bad ankle sprain. He's trying to make it back."
Shaw, a 6-foot-7 forward, hurt his left ankle in the first round of the NCAA Tournament on Friday, during a 61-51 Salukis victory over 13th-seeded Holy Cross. Shaw was going up for a rebound right before halftime and landed on it awkwardly.
Shaw had 11 points and five rebounds for the fourth-seeded Salukis in the first half of the Holy Cross game.
He was one of the Salukis' high-impact players, averaging 11.4 points and 5.7 rebounds while starting every game this season before going down.
"We told the players to give us one more chance to play with Matt Shaw," Lowery said. "We usually say that about our seniors, but now he's trying to get back healthy. Our athletic trainer, Ed Thompson, is doing as much as he can to get him ready."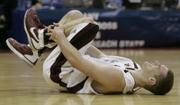 The Salukis had the same starting five for all 34 games until Shaw was forced to sit out Sunday's second-round showdown against Virginia Tech. In his place, Tony Boyle started and had zero points and three rebounds in 20 minutes, collecting four fouls and three turnovers.
Southern Illinois maintained its strong defensive intensity despite being a man down and beat the Hokies, 63-48, to advance to the Sweet 16.
For the entire season, Shaw joined 6-foot-7 junior Randal Falker (12.4 points, 7.7 rebounds per game) to provide Southern Illinois' post presence. It remains to be seen if the two will be able to team up again versus the Jayhawks.
"My thought process is day-to-day," Lowery said. "It would be different for me and for him if he were a senior. We still want to win games, but we're also going to be smart about the future of the program, too.
"He doesn't have to be 100 percent to play, but he's got to be capable of doing what we do defensively, and he knows that."
Copyright 2018 The Lawrence Journal-World. All rights reserved. This material may not be published, broadcast, rewritten or redistributed. We strive to uphold our values for every story published.