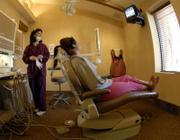 Kansas University basketball fans are a loyal flock.
When March rolls around, they will go to any length to watch their beloved team vanquish the Wildcats or trounce the Longhorns - even if they are experiencing a root canal during the viewing.
Hopefully, that dedication will get to last more than one round through this year's NCAA tournament.
Watch the KU Jayhawks take on the Niagara Purple Eagles at 6:10 p.m. today on Sunflower Broadband Channels 5 and 13.
Copyright 2018 The Lawrence Journal-World. All rights reserved. This material may not be published, broadcast, rewritten or redistributed. We strive to uphold our values for every story published.