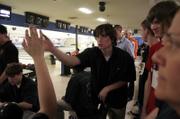 Not even the Lawrence fire marshal was going to keep the Free State High bowling team from giving its hometown crowd a good showing in the Kansas state bowling tournament Saturday at Royal Crest Lanes.
With a more-than-capacity crowd on hand for the state meet, the alleys were close to being shut down in order to limit the amount of spectators.
"The fire marshal said that first and foremost was the safety of everybody in the building, and then we had all these people," Free State bowling coach Anita Carlson said. "And they did say, 'We're going to shut you down unless you start moving around people.' So we did all scramble around for that, and it all turned out OK."
Once the second-year coach got things in order - or least in order enough to appease the fire marshal - her charges turned in one of their best performances.
First was the lone Free State female to hit the lanes. Melissa Burnside finished eighth and was tops among city bowlers - which included the entire Lawrence High girls squad. The Lions' Jessica Wyatt just barely had a top-10 finish, coming in 10th, while teammate Tiffany Demaline was the only other Lawrence medalist at 16th.
"The girls were awesome," Carlson said. "Melissa placed eighth, and I couldn't ask more of her. It was good for her."
Once the girls had received their hardware, the Free State boys team took the lanes - and took to them quickly.
Jumping out ahead in the team totals after the first of the three games put the boys in a groove that resulted in a second-place team total for the tournament - coming in just 50 pins behind the state champs from Maize.
"I've told everybody that we had it in us and that when they could bring it all together and put it all together at one time, they could place in the top three - and we finish second," Carlson said.
The biggest source of the Firebirds' point total didn't come from any of their three seniors, but from their left-handed freshman, Robert Wagner.
"After that first game, I was getting into a groove, and after the second one I really thought that I was going to place somewhere in the top 20," said Wagner, who finished third. "It feels amazing. I didn't think I could do that well."
Just as FSHS had just one girls qualifier, LHS put just one boy - Ben Wyatt - in the state meet. But that lonely Lion did his school proud by coming in just one place behind Free State's freshman.
"I was really happy that I did well," Wyatt said.
The youth of the programs is coming on at just the right time with the loss of some solid seniors. One of those elder statesmen - Nick Kennedy of Free State - also received a medal for his performance, coming in 13th in his final high school tournament.
"There's still a lot of potential (in the program)," Kennedy said. "Yeah, we're losing a couple of seniors, but all of the juniors and sophomores have a lot of potential and could do very good. Robert, of course, will probably be top bowler next year, and they still have Tyler (Kring) and Josh Herschell."
Carlson is most definitely liking the looks of the future for both the schools' bowling programs.
"Hopefully, this will pack them in, in the youth leagues, because that's where we need them," the FSHS coach said. "Especially with the girls."
Copyright 2018 The Lawrence Journal-World. All rights reserved. This material may not be published, broadcast, rewritten or redistributed. We strive to uphold our values for every story published.