New York — On the eve of the 2007 NBA Draft, Julian Wright could honestly say he had no idea what the future holds. If the former Kansas University forward had any clue about his place in the draft, or which team might be inclined to select him, Wright wasn't tipping his hand Wednesday.
And he doesn't expect to find out before anyone else. The suspense won't end until NBA commissioner David Stern steps to the podium tonight and calls Wright's name at Madison Square Garden.
"I think it will be a surprise," Wright said Wednesday. "I want it to be a surprise. Hopefully it's a positive surprise, not a surprise that makes you (say), 'Whoa, slippery slope here.'"
Wright has heard the rumors. He knows ESPN's Andy Katz reported Monday that the "biggest slider in the first round could be" Wright. Tabbed as high as the No. 7 pick back in April, Katz reported that Wright could fall to Washington at No. 16.
Of course, since no one knows exactly what will happen, there is disagreement even within the ESPN.com ranks. Draft guru Chad Ford continues to position Wright at No. 14, going to the Los Angeles Clippers with the final pick in the lottery.
Wright tries not to pay attention.
"I'm reported to be sliding down, moving up, sliding down," Wright said. "I've heard it all. There's no sliding down, unless you just tank a workout. Other guys may have looked better at certain workouts, but that's why this draft is so inexact. It's not concrete. It's about team needs, not just talent.
"If I slip to No. 7, and that's where I need to be, that's fine. If I slip to 12, and that's where they need me and that's where I can really be of use to them, then that's fine. It's not about telling my kids that I was this pick or that pick. I just want to be successful where I'm going and hopefully be a good fit for that team."
Wright arrived in New York on Tuesday night after his final workout with the 76ers in Philadelphia. The 76ers hold the No. 12 pick, and one mock draft (The Sporting News) predicts that is where Wright will be taken. Wright's agent, Rob Pelinka, reportedly decided his client would make the last-minute trip to Philadelphia after declining a workout earlier.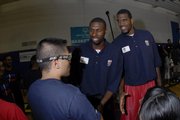 Before heading to Philadelphia, Wright participated in workouts with Minnesota, Boston, Milwaukee, Charlotte and Sacramento in less than a two-week period. The Kings might opt for Wright at No. 10, putting an end to all the rumors.
Speculation concerning Wright's possible slip in the draft has focused on a variety of issues. In addition to the reported restrictions Pelinka placed on those workouts, Wright's history of erratic shooting could be hurting him. And Wright may not have performed as well as desired after he sprained his right ankle during drills in Boston on June 18.
Wright said the ankle was fine.
"I rolled it in Boston, and it has been lingering a little bit," Wright said. "It's not that bad. If I'm able to slide, jump and run, I'm cool enough to play."
The Milwaukee Journal-Sentinel reported that Wright "grimaced in pain" and was pushed hard by his workout partner during a June 22 audition with the Bucks. Wright was going against Jovan Stefanov, a 6-9 forward from the University of Illinois-Chicago.
"He's a 3 man (small forward), and you could play him at some 4 (power forward)," Dave Babcock, the Bucks' director of player personnel, told the Journal-Sentinel of Wright. "Maybe you could play him at some 2 (shooting guard)."
According to the Milwaukee newspaper, Wright took a long break during the workout and was helped back on the court by trainer Andre Daniel.
"He got tired, but he's been out for three days [since Boston]," Babcock said. "It's not a big deal."
Wright said he didn't get a feel for which workout went the best or how the process translates to the draft, which begins at 6 tonight.
"Everyone's pretty cool," Wright said. "No one has really come out and said, 'We want you, or this and that.' They just say 'thanks for coming out' and that type of thing. They kind of keep their distance in terms of what they were really feeling.
"I just feel like I possess a lot of skills that hopefully will make me attractive to any organization. I feel like I don't have one thing to hang my hat on and that if I don't do well in the workouts (it means) I won't get picked. This is a business as well and you have to make sure you put yourself in the best position to be successful."
Wright said the biggest adjustment since deciding to leave Kansas after his sophomore season has been learning the business portion of the process.
"I've tried to ask a lot of questions so that I can learn," he said. "I'm picking it up pretty quickly. I have good support around me that is keeping me focused, so that's definitely a plus."
Wright was one of 12 players who participated in an interview session at a New York hotel Wednesday afternoon. Those same prospects then visited the John Jay College of Criminal Justice and participated in an NBA Cares basketball clinic for area Special Olympics athletes.
As the final minutes tick down to tonight's draft, Wright will be joined in the Green Room by Pelinka, his mother, Gina Wright, his father, Paul Vinson, and one of his four brothers, Andre. Wright was wearing brown pinstripes Wednesday but revealed little about his draft-night suit.
"Gray is the primary color. I'll let the rest be left as a secret," he said. "If I'm not in the 10 best (dressed), I just don't want to be in the 10 worst."
Wright said he started thinking about his NBA chances when he was a high school kid growing up in Chicago. But recent weeks have been an education for him, demonstrating there's more to making the league than just being a lottery pick.
"A lot of people may think that they've made it," Wright said of being drafted. "But I have so much work to do. I'd be foolish to say I've arrived. You always hear about guys like Tim Duncan who are hard on themselves, but in a positive way. They always feel like they can get better at something and improve. I hope to be, in due time, talked about as one of those guys who strives to get better."
Copyright 2018 The Lawrence Journal-World. All rights reserved. This material may not be published, broadcast, rewritten or redistributed. We strive to uphold our values for every story published.