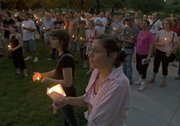 Opponents of the war in Iraq paraded down Massachusetts Street on Monday night and then lit candles in South Park while calling for the troops to be brought home.
"We have to speak out," said Rupert Pate, a Lawrence resident and veteran of the Vietnam War.
The protest was led by Mike Sanger, an Iraq war veteran who along with two other veterans recently started the Kansas City chapter of a national organization called Iraq Veterans Against the War.
"Everybody needs to be united to put an end to this madness," said Sanger, who was dressed in desert camouflage pants, a black T-shirt and a desert boonie hat.
At least 100 people walked to the park after watching a screening of a movie earlier in the evening at Liberty Hall. The movie, titled "Sir! No Sir!" is about servicemen who spoke out against the Vietnam War.
Sanger said the U.S. is likely to be in Iraq for decades while following the same plan the country has used in South Korea.
"Mark my words, I will fight the battle until the last troops are out of Iraq," said Sanger, who said he was an Army military police officer who served in Iraq in 2003.
Among those at the protest was Anne Pritchett, of Overland Park, a member of an organization called United for Peace and Justice. She said Oct. 27 has been selected as a national day of protest against the war. And starting in September, there will be a movement to launch a consumer moratorium aimed at the oil industry. The moratorium will be on the third Friday of every month, she said.
Some in the crowd spoke out against U.S. Rep. Dennis Moore, D-Kan., who represents the eastern half of Lawrence, for supporting the war.
"He's no different than (President) Bush," called out one protester.
The anti-war rally was organized by Iraq Veterans Against War, Kansas Mutual Aid of Lawrence and the Lawrence Coalition for Peace and Justice.
Sanger said afterward he hopes to return to Lawrence for similar marches and rallies in the future and be joined by more disgruntled Iraq veterans.
Copyright 2018 The Lawrence Journal-World. All rights reserved. This material may not be published, broadcast, rewritten or redistributed. We strive to uphold our values for every story published.